Coronavirus is result of conflicting biological experiments: Lt General KJ Singh
270+ Delegates take part in CGC International MUN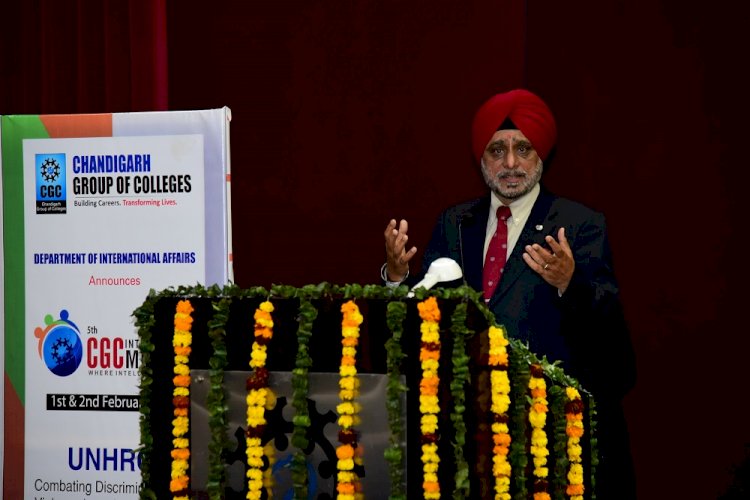 Chief Guest, Lt General KJ Singh at the inaugural ceremony of 5th edition of CGC International MUN.
Chandigarh: We must not completely rely on machines as they lack wisdom and thus, the technological and Biological experimentations sometimes result in Global calamity such as Corona Virus outbreak in China.  This was stated by Chief Guest, LT General KJ Singh at the inaugural ceremony of 5th edition of CGC International MUN (Model United Nations) at Chandigarh Group of Colleges, Landran. LT. General KJ Singh also talked about the demographic dividend of India who, according to him, must be empowered with latest technologies and skills so that they can fill up the gap of low youth population at other international locations else it can turn out to be a demographic disaster . He was accompanied by 270+ delegates from across the globe who took part in the panel discussions of the intellectual Meet and role-played the delegates of United Nations and simulated UN committees. 
The Committees and Agendas for the MUN included UNGA-DISEC where the role of science and technology in the context of international security and disarmament, UNHRC (Combating discrimination and violence based on religion or beliefs), Climate Change Summit (Discussing the issue of climate change), AIPPM (Job creation and employment, Creating future roadmap of Development in Jammu-Kashmir and Ladakh) and International Press (Photographers, Reporters, caricaturists) along with a Committee PRAYAAS (Special Committee for specially-abled) held a special discussion on 'One nation, One language'. 
While briefing about the importance of organising such events dedicated to United Nations, Guest of Honour, Sebastiaan Boussauw, from CGC's International partner college Hogeschool UCLL, Belgium said, "The 17 sustainable development goals set up by the United Nations to address global challenges including poverty, inequality, climate change, peace and justice has to a priority of every nation so that we all are on the same path." 
Chairman (CGC) Satnam Singh Sandhu and President (CGC) Rashpal Singh Dhaliwal encouraged the students to be socially sensitive citizens and become great leaders of the upcoming era.