Corona: An opportunity for distance educators of PU
This experiment in the Panjab University will go a long way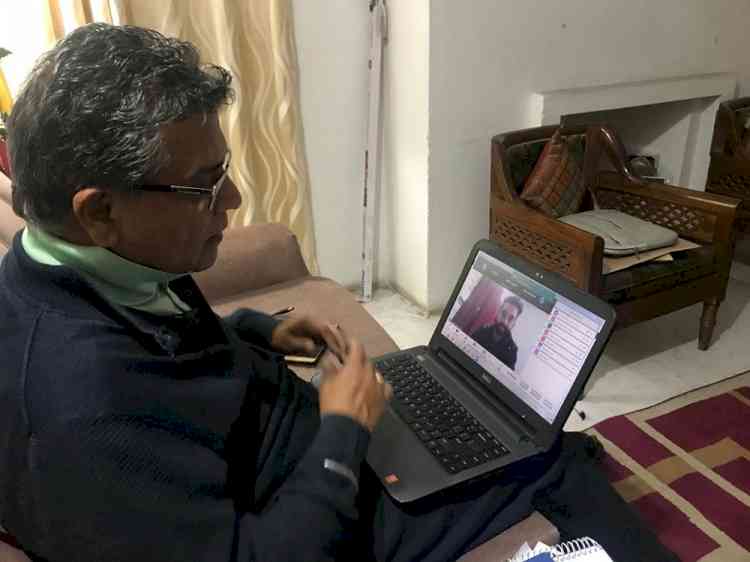 Chandigarh: 
COVID-19 has given yet another opportunity to distance educators to
prove their worth. This time it is world-wide. In Panjab University,
the University School of Open Learning (USOL), which was started in
1971 as the Directorate of Correspondence Courses, has on its rolls
faculty with rich experience to meet the challenges of the time.
 At this juncture, when the USOL is celebrating  its Golden Jubilee of
serving the society, Dr. Ravi K. Mahajan, Professor in the USOL, has
'unfortunately credited corona' for giving him satisfactory moments as
Distance Educator that too when he is on the verge of his
superannuation. In turn he has witnessed the growth of 'correspondence
education' to the modern age e-Education. Staring with developing
printed material in 1977-78, and adding audio components in 1980s to
the kitty of distance learners, in 1991, he contributed the 'concept
and script' for an educational film 'Statistics: An Introduction', it
was probably the first educational film on 'statistics' at the UGC's
program. The film was telecast on the UGC's Country-wide classroom
programme a number of times.
 Adding another thrill to his experiments, he developed first lesson
for 'learning on computer'. The lesson was developed in dBase on PC
486 while harnessing features like 'print screen'. Later in 1992, at
the IIT Kanpur, during a workshop 'Teaching Statistics Through
Computers', he demonstrated 'teaching-learning environment, with
respect to one topic, in the then prevalent communication tools, viz.,
print, audio, video and computer. Later, with the development of
Learning Content Management Systems, in 2010, ATutor and Joomla were
harnessed to experiments in providing online study material and
learning experiences to the students of Diploma in Statistics.
This first of its kind venture of the Panjab University was
ceremonially launched, by the then Vice Chancellor of the University
Prof. R.C. Sobti under the project 'Go Global Go Online'.  During the
same time frame, he also created 'Google Channels' to share pieces of
information with different groups of students, before going for
identical groups on What's App.  However, the year 2019 gave him real
exposure to the modern age teaching-learning environment, when on 25
April 2019 he probably became first Indian to address an 'On-Line
Symposium' at the American Center for Study of Distance Education at
Penn State University, USA. During the presentation, he combined
'screen-shared text and extempore talk' amidst intermittent questions,
observations and discussion from the participants. It was a near
ultimate in distance education, where all the components of educations
technology that too in an economic and convenient way with ease of
operation ability were unified to give a new experience to the host
and the beneficiaries. This experience encouraged him to adapt it for
reaching out to students beyond four walls of the class-rooms.
Unfortunately COVID Lockdown gave him an opportunity to realize his
dream. After experimenting with a few platforms, he settled with ZOOM
to deliver an online session every day, since March 23. Of course it
takes about 2 to 4 hours to redo the study material to be shared on
the screen with the students. Of course, being distance learner, the
students already have with them study material and the exercise
sheets. These sessions are being used by the students to get add-ons
and clear their doubts, while for some it is an opportunity to get an
overview on the topic.
Notwithstanding, issues arising out of poor internet connectivity at
the end of host or recipients, amidst satisfaction he derived of this
experiment, he foresees in the post COVID-19 era an emergence of a new
online-driven trans-border educational edifice.
Nonetheless, at this juncture, focusing on India, universities should
bank on 'distance education institutes', which have expertise in
meeting pedagogical requirements in teaching students at distance.
Moreover, by the time corona lockdown was initiated, most of the
institutes of distance education or open universities must have been
ready with their study material. Of course, open universities like
IGNOU and some institutes of distance education have put their
material on their web sites. The some courses are available on the
SWAYAM platforms, or some independent MOOCs are available, but these
are not sufficient to meet the requirement of students for
conventionally driven universities degrees.
But as on date, students need their 'course specific' material, so
almost all the universities will have to muster their own resources.
For instance, Panjab University can ask its department and colleges to
develop study material. To fasten the process, from the pool of the
all Teachers in the colleges and university, topic-wise allocation be
made to the teachers to develop the study material within a time
frame. The study materials of USOL in the courses available therein
could well be harnessed. The material thus developed is put on the
university websites for the students. Thereafter their respective
teachers, using any platform from the array of available ones, be
asked to be available online, as per pre-assigned and pre-announced
schedule, for giving 'add-ons' and 'clearing doubts' of the students.
It is important to note that developing study material is quite
demanding in terms of content and it presentation. It is developed to
ensure that students are actively engaged in learning, and for that
they can seek the help from the faculty in USOL. And same is true with
online sessions, where teachers have to be very particular in their
communication and response as all gets into public domain for
evaluation and scrutiny.
Nonetheless, this experiment in the Panjab University will go a long
way in contributing to the world-wide emerging online-driven
trans-border educational edifice.