Commissionerate Police trace 204 lost/stolen mobiles, return them to owners
Ludhiana Police to give priority to trace these phones with the help of technology:  Commissioner of Police Gurpreet Singh Bhullar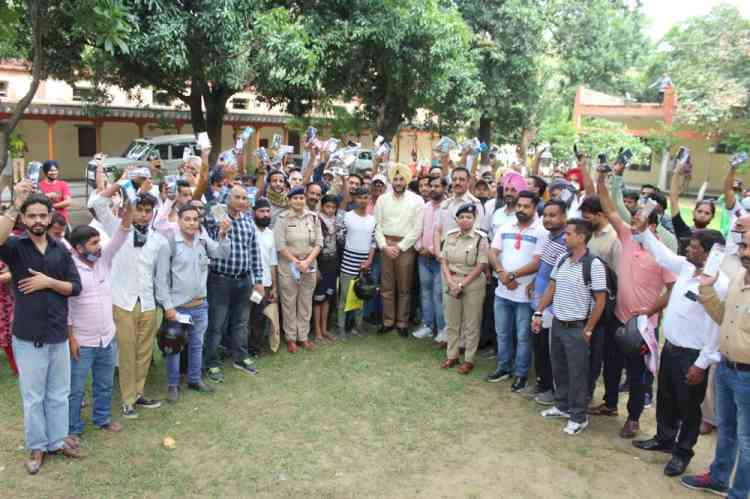 Ludhiana, September 29, 2021: As part of a special drive launched by Commissionerate Police, Commissioner of Police Gurpreet Singh Bhullar on Wednesday handed over 204 lost/stolen mobiles to their owners during an event held at Police Lines. 
Accompanied by DCP SPS Dhindsa, ADCPs Pragya Jain, Rupinder Kaur Bhatti, ACP Harsimrat Singh, Commissioner of Police Gurpreet Singh Bhullar said that today for everyone mobile phones are far important than their monetary value due to saved data including contacts, passwords, personal information and personal pictures/videos.
He said that Ludhiana police have made it a priority to trace lost or stolen phones with the help of technology and hand over to the owners immediately. 
Lauding the efforts of  IT and cyber cell teams for tracking and recovering these mobile phones, Gurpreet Singh Bhullar said that most of owners belonging to middle class families and each mobile cost around Rs 10,000. 
Advising the people to quickly report to the police about loss of mobile phones especially smartphones so that these are not misused by anti-social elements, Commissioner of Police said that this would further help the police to take strict action against the miscreants. 
He also directed the officials to prepare data of case properties so that these can be given back to their owners in such kind of functions. He also solicited fulsome support of the people in making Ludhiana crime free and ensuring effective policing. 
The phones' owners expressed gratitude towards the Commissionerate police and said that they had lost the hopes of getting back the phones. Elated owners said they would remain thankful to Commissionerate Police for tracing their phones.