CME on 'Tropical Fever-an update' held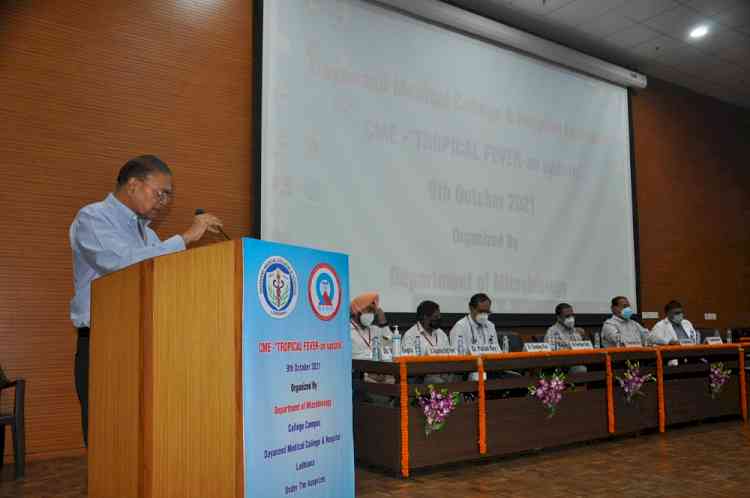 Ludhiana, October 9, 2021: Infections pertaining to 'Tropical Fever' are quite common in different parts of country.  Some of these occur throughout the year and some especially in rainy and post-rainy season and it gives a really tough time to health caregivers including doctors and nurses to manage this disease.
To address the complications and consequences of this troublesome scenario, Department of Microbiology under the guidance of Professor & Head of Microbiology-Dr Veenu Gupta held a CME on 'Tropical Fever-an update, which was attended by around 200 delegates from different medical colleges of the country.
Secretary of DMCH Managing Society-Sh Prem Kumar Gupta formally inaugurated CME in the presence of Principal Dr Sandeep Puri, Dean Academics Dr Sandeep Kaushal and Medical Supdts. Dr Sandeep Sharma and Dr Ashwani Chaudhary and Dr Manoj K. Sobti (Punjab Medical Council, Member) who declared 4 credit hours for the CME.
Secretary Sh Prem Kumar Gupta lauded the efforts of Microbiology Department in conducting a CME on such relevant issue.
Addressing the gathering of dignitaries and participating delegates, Dr Dr Veenu Gupta emphasized that Department of Microbiology in DMCH has always been instrumental in early detection and diagnosis of tropical fever infections so that correct treatment and proper precautions can be started taking by the patients at the earliest.
Every year different parts of India are hit by seasonal fevers in the post monsoon period. These fevers include Dengue, Malaria, Scrub Typhus, Leptospirosis, Typhoid fever and some other fevers leading to very high morbidity and mortality. A large number of these patients require intensive care unit (ICU) care like mechanical ventilation, renal replacements therapy, vasopressor support, blood and blood component therapy due to single or multiorgan failure.
During the CME, scientific sessions on various issues pertaining to subject of Tropical Fever were moderated by various renowned faculty members form reputed medical institutions including Dr Gagandeep Singh Grover, Asst Director State Programme Officer (Director, Family & Health Welfare), Dr Manisha Biswal from PGIMER Chandigarh and other senior faculty members from the Department of Medicine and Community Medicine, DMCH. A CME got concluded with an impressive valedictory function and a creative poster competition by paramedical students of the institution on the theme of 'Tropical Fever' which was well appreciated by the audience.
Dr Rama Gupta and Dr Jyoti Jindal proposed a vote of thanks.