City-based theatre group to stage 'Art Lit Adaptation' at Shimla's iconic Gaiety Theatre
The short play will mark launch of book 'The Taste of Midnight'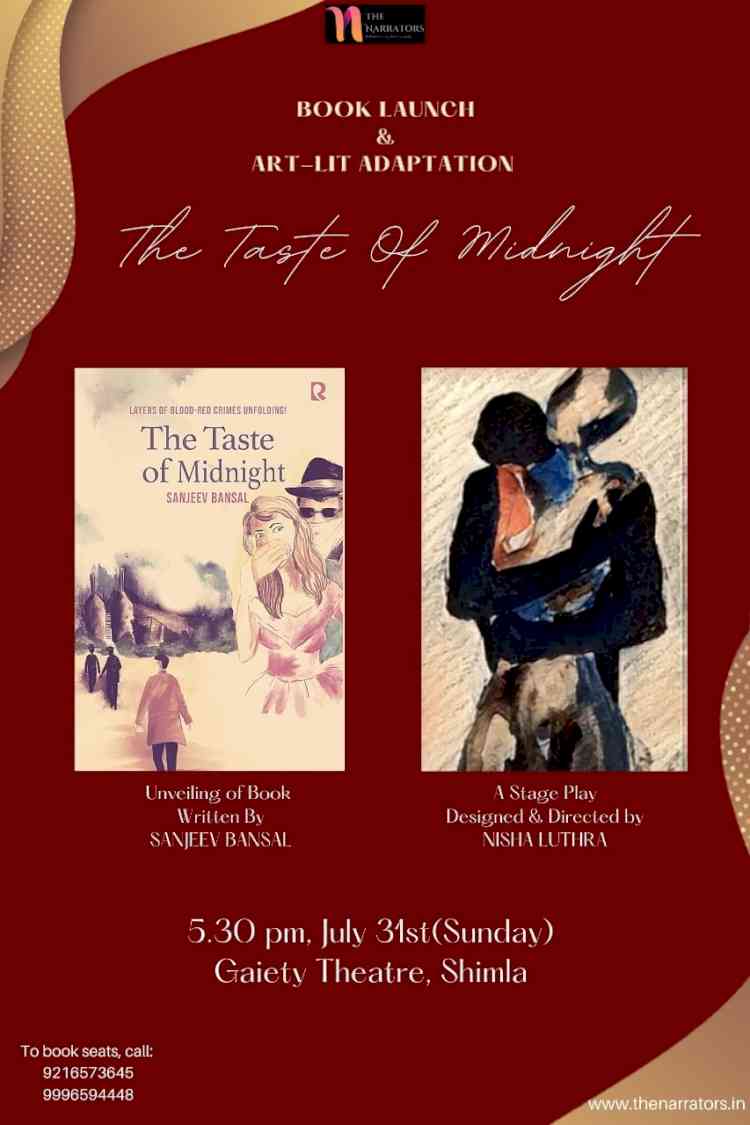 Chandigarh, July 28, 2022: A city-based theatre group - The Narrators Performing Arts Society is coming up with a unique 'Book Launch-Cum-Art Lit Adaptation' event based on a book 'The Taste of Midnight' which is a Romantic Thriller at the majestic Gaiety Theatre, Shimla on 31st July 2022, 5:30 pm onwards.
The book 'Taste of Midnight' is written by a city-based writer, poet and engineer Sanjeev Bansal. Sanjeev is the hailing author of the classic poetry anthology, 'An Ode to Shimla'. Besides, Bansal has also authored two non-fiction books apart from other write-ups, which have been highly appraised in different journals.
"When Sanjeev Ji suggested Gaiety Theatre, Shimla for staging the act, we immediately jumped at the opportunity to perform here ," said Nisha Luthra, Founder, The Narrators. Currently the theatre team is practicing hard in Chandigarh under Nisha Luthra who is directing the piece.
Sanjeev Bansal, the author of the book has a close association with Shimla where he spent his college years, he said, "I decided that Shimla would be the venue as I have a deep emotional connection with the hill city. The plot spins around the inherent darkness and how one keeps flipping from his own heaven and hell in an attempt to redeem himself of guilt. The book has an intriguing plot which revolves around Mike and Stella."
The author leaves the reader with a manoeuvre to be deciphered in the sequel.
In the play, Nisha will recreate the characters, the imagery and the plot of the narrative and enhance the struggles that the varied characters are going through.
Excited to perform along with her team at the heritage and gothic stage of Gaiety Theatre, Nisha said, "Since the story of the book is set in Berlin City, it has a vintage European vibe to it and it would be interesting to showcase this story at the Gaiety theatre built in the British era. It would also help in making a connection with the art, literature and theatre-loving audience of Shimla."
Apart from Mike and  Stella, there is another important character in the story -  a kidnapper. "While Mike and Stella are played by Rajan Batheja and Hina Batra, Jasvir Kumar plays the kidnapper, "Luthra further said.
Urban Development Minister, Himachal Pradesh Suresh Bhardwaj will be the Chief Guest. The Guests of Honour will be Shriniwas Joshi, IAS (Retired), who is also a Writer & Theatre Director; Dr. Usha Bande, a retired Professor of English and author of 18 books; Akhilesh Pathak, PRO, The Indian Institute of Advanced Study; Balkar Sidhu, President, Punjabi Lekhak Sabha and Vice-Chairman, Chandigarh Sangeet Natak Akademi, Chandigarh.