Central University of Punjab organised Mass Yoga Session to mark International  Day of Yoga- 2022
Three-week celebrations to mark IYD-2022 culminated with a Mass Yoga Session at Central University of Punjab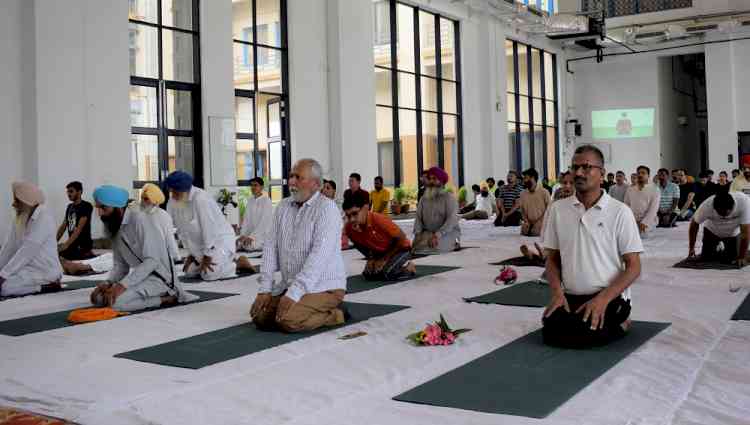 Bathinda, June 21, 2022: Central University of Punjab, Bathinda (CUPB) organized a Mass Yoga Session at university campus to commemorate the 8th International Day of Yoga 2022 (IDY-2022). Prof. Raghavendra P. Tiwari, Vice Chancellor, graced the occasion as Chief Guest. The Guest of Honour and Special Guest of this programme were Prof. B.P. Garg, Registrar, and Sardaar Karamjeet Singh, Pradhan, Gurudwara Prabandhak Committee, Village Ghudda, respectively. More than 300 participants, including faculty, staff members, university students and residents of Ghudda and Jhumba Villages, attended this programme.
At the start of the program, participants witnessed a LIVE Telecast of an address by the Hon'ble Prime Minister Shri Narendra Modi. After this, everyone practised the Common Yoga Protocol given by the Ministry of Ayush, which included Yogasanas, Kapalabhati, Pranayama, Dhyana and several meditation based exercises. During this programme, CUPB students presented a beautiful Yoga Pyramid Demonstration, which was appreciated by one and all.
Dr. Sanjeev Mander, HoD, Dept. of Physical Education and Sports, in his welcome address, informed that the celebrations of International Day of Yoga (IDY) commenced at CUPB from 31st May 2022 and since then the university has organized a series of activities viz. Regular Yoga Sessions, One-Week Alternative Therapy Workshop, Poster Making Competition, Rangoli Competition, Essay Writing Competition, Yoga Asana Competition, International Quiz Competition, and One-Week Yoga and Health Society Outreach Programme for Ghudda Villagers to spread awareness about the importance of yoga for health and wellness.
In his presidential address, Vice Chancellor Prof. R.P. Tiwari stated that Yoga is the invaluable gift of ancient Indian traditions to humanity and Maharishi Patanjali is considered the compiler of Yoga Sutras that help us to discover oneness with ourselves, the world, and nature. He asserted that various activities organized by the university during the three-week celebrations to observe IYD-2022 will prove helpful to improve the holistic health of CUPB fraternity as well as our neighbourhood community. He exhorted youngsters to adopt Yoga in their daily life routine as it enhances their physical and mental fitness, boosts their immunity and increases their concentration level. He appreciated Dept. of Physical Education and Sports for conducting activities covered under three-week IYD-2022 Celebrations.
During his programme Vice Chancellor Prof. R.P. Tiwari, along with CUPB officials and guests, awarded prizes to the winners of various competitions organized to mark IDY-2022. Towards the end, organizers thanked participants for making this event a huge success.