Celebration of International Women's Day at Pavilion Mall
Women in the region have made tremendous strides in society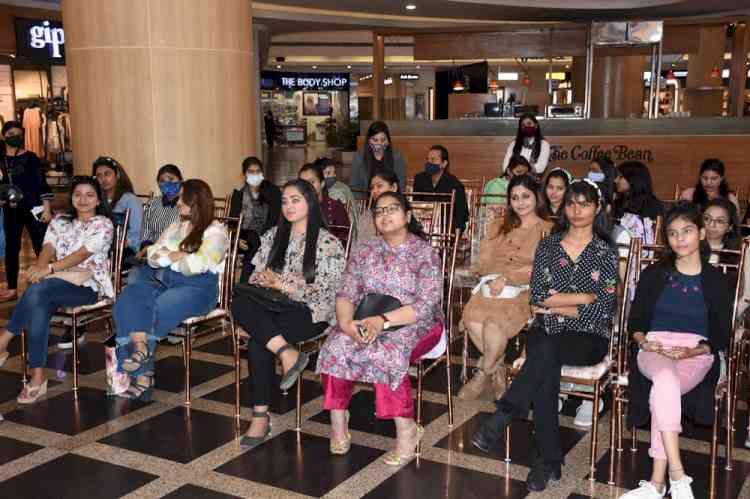 Ladies attending Makeup workshop during International Women's Day celebration at Pavilion Mall, Ludhiana.


Ludhiana: In celebration of International Women's Day on 8th March, 2021 Pavilion mall has launched a 3-day campaign "The W Factor" from March 6th to 8th march to honour women. Mall will be honouring twenty diverse women in Ludhiana who, through their own inspiring stories and commitment to charitable & professional work reflect the strong, independent and admirable qualities underlying the campaign. 
A series of activities and promotions will also be going on throughout the mall and on social media channels. There will be exclusive shopping discounts on selected women brands. Also, the mall is providing Free valet on all 3 days (6th-8th) to all the women drivers. 
Women in the region have made tremendous strides in society and we want to commend them for their hard work as part of the International Women's Day celebration. 
FLOW CHART OF THE EVENT
Saturday 6th March 2021
Wakeup & Makeup (Duration 120 min approx.) – Suggested timing 3.30PM
- Makeup Workshop by a renowned makeup artist Mehak Kawatra
- Party makeup Tutorial and Q&A session
- Open House session for walk ins.
 
Sunday 7th March 2021
Dress & Dine (Duration 120 min approx.) – Suggested timing 12.30PM
- Table Styling Workshop by Dressed Dining (Sakshi & Prakshi). It would feature DIY Hacks for Table Styling using products of Pure Home.
- Slot to talk about the brand at the end of the session.
- Entry through Guest List & also open house for walk ins.
 
Monday 8th March 2021
Women of Substance (Duration 4 to 5 hours)– Timing 12:30PM
- Recognizing 20 women of who have made a difference in the society through profession or any other achievement
- Professional Anchor to host the event
- Trophies to recognize each of the invited ladies
- Dance Performance/Skit by students of a School/Academy