BJP will script its biggest victory in Rajasthan in 2023: Satish Poonia (IANS Interview)
With about 14 months to go before Rajasthan goes to the polls in 2023, BJP's state unit chief Satish Poonia sounded confident of a lotus bloom, claiming that the saffron party will register its biggest victory ever in the desert state by winning 175+ seats in the 200-member Assembly.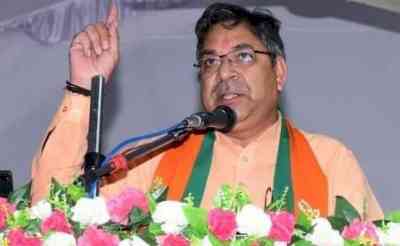 BJP's state unit chief Satish Poonia. Source: IANS
Archana Sharma
Jaipur, Aug 19 (IANS) With about 14 months to go before Rajasthan goes to the polls in 2023, BJP's state unit chief Satish Poonia sounded confident of a lotus bloom, claiming that the saffron party will register its biggest victory ever in the desert state by winning 175+ seats in the 200-member Assembly.
At a time when talks are doing the rounds in the political corridors of the state as to whether he would continue as Rajasthan BJP President as his three-year term will conclude next moth, IANS spoke to Poonia on a range of issues, including CM faces for Rajasthan, factionalism in the party and his goals as state party chief, among many others.
Here are excerpts from the interview:
Q: What strategy are you adopting to win the 2023 Assembly elections?
A: We are adopting some innovative strategies which are aimed at touching each voter at every booth. We are confident of scripting the biggest ever victory in the coming Assembly polls by winning 175+ seats.
Our team is trying to overcome the weaknesses that led to our loss in 2018 by default. We are also focusing on the 19 Assembly constituencies where we have never won. Overall, we have shortlisted 50 constituencies where we are targeting to win this time.
In the 2018 Assembly polls, Congress grabbed power by default as BJP's vote share was just less by 0.5 per cent, which means three votes were less in each booth as compared to the Congress. We are evaluating these lapses and are trying to overcome them to script a landslide victory next year.
A: What's the approach you are taking this time?
A: We want to return to power by strengthening our organisation. This time we are working differently. Our party morchas, which were once appointed at the state level only, are now being appointed at district and block levels, and hence they are operational everywhere.
This has strengthened our network and helped us emerge stronger than ever. All the party workers are putting their trust in us, which is again a plus factor as our opposition is divided in different factions and has no team at the block or district level.
Further, it is a certified fact that the people of Rajasthan vote to change the government in every alternate election. Next, there is the anti-incumbency factor. Also, the Congress government has no defence for its corruption, rising crime incidents and for the fake promises it made on farm loan waiver. We are focusing to hit hard on these points.
Q: After the 'Panna' model, 'Vistaraks' are also being appointed. Please explain what this is...
A: We want to recreate the success story of Gujarat where the Panna model has been quite successful. Names in each page of the voter's list shall be contacted by our workers under this Panna model.
Also, Vistaraks are being appointed in each Assembly constituency. These are people who work at the grassroots level, but have no aspiration to join real politics. It is an organisational strategy to hire them. This is a kind of organisational recruitment to strengthen the party at the grassroots level. As these Vistaraks are non-political, they work to streamline arrangements at each Assembly seat.
Three-layer recruitment will be made under this system, which will include one coordinator at the local level, a Vistarak and one Vidhan Sabha in-charge. This combination will work on each assembly seat and will raise the burning issues. Suggestions from them will help us focus on the current challenges and work out their solutions as well.
As many 100 people have been trained as Vistaraks and further work in on.
Q: As per the top party leadership, the CM face will be announced post the elections. Will this have a positive or negative effect, as many in the party are projecting themselves as the next CM?
A: Presently, we all are working with an aim to throw the Congress out of power. Our senior leaders have said repeatedly that the BJP Parliamentary Board shall decide the CM face after the polls. And I don't think anyone will disrespect the party high command. Every state has its own circumstances, and looking at them each party decides on its priorities.
We all are working to oust the Congress and we are confident that in the name of Prime Minister Narendra Modi and his developmental schemes implemented on the ground, we will attain victory.
Q: How do you see yourself? As the CM face, state unit chief or a party leader?
A: In all these years, we have learnt that the party organisation is above all. In my case, it is the party that decides what I should do. As of now, my priority as state BJP chief is to ensure the party's victory.
I am ready to perform any duty the party entrusts me with. I am trying to strengthen the party organisation. If the party wants me to serve more and to go to greater depths, I will humbly do that.
Q: It is being said that the BJP has a dozen CM faces. Your comments on reports of factionalism in the party...
A: We need to admit that the party has a capable and strong leadership which is competent enough. Media reports say there are 12 CM faces.
A few months back, it was said that the party has no leadership, but now it said that we have around 12 leaders capable of becoming the CM. We have to accept that the leadership is strong here.
We are sometimes compared to the Congress, where factionalism is clearly evident. They have individual camps where we saw rebellion; we also saw the Deputy CM getting removed by his own party.
But the BJP here is connected to the party's principles and its Parliamentary Board. So all talks of factionalism are fake.
Unlike the Congress which is directionless and issueless, our Central leadership is strong and hence we are dedicated to achieve our goals.
Q: It is being said that the Opposition in Rajasthan is weak and there are no major protests on major issues. What is your view on this? Has the party got into the election mode?
A: The nature of protests has changed in this 21st century. What we saw in the 80s is no more the case. Youngsters are raising issues on social media and fighting them out there. Rajasthan has the second highest unemployment rate, but the youth are not on the streets as they are venting out their anger on social media.
But we have taken on the state government on several issues and pushed it on the backfoot many times.
And yes, our party has got into the election mode. We have already travelled lakhs of kilometres in the state. I have touched as many 190 Assemblies. I am confident that our party workers are motivated.