BioNEST, PU Startup initiates production for GlutenGo
Gluten-free floor at the 300 ton production unit set up in Mohali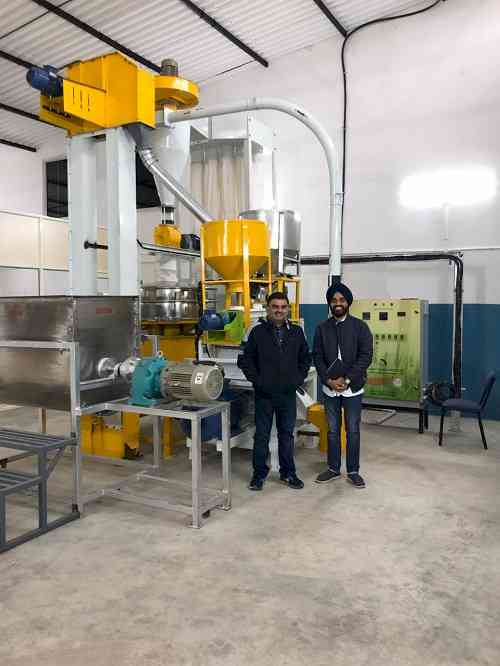 Chandigarh: MicroFoodsPvt. Ltd. - a young startup led by Mr. Prabjot Singh Khanna and incubated at the BioNEST-PU, the bioincubator of Panjab University was granted SEED fund for their product GlutenGo by BIRAC through FITT-IIT Delhi in September 2019. The agenda of the funding was to aid the setup of a multi-ton production unit with multigrain flour manufacturing facility of upto300tons per month. The plant was constructed and made fully-functional at Industrial Area, S.A.S Nagar (Mohali) Punjab before the lockdown. Keeping in view the need of gluten free products in the market, and the consequent high demand from retailers, this social enterprise has now initiated the production to satisfy the same.
Microfoods received their first bulk order even before the plant was in a fully functional condition. The company has been waiting for the lockdown to be lifted so as to launch multiple other products, some of which were under developmental stage at BioNEST-PU. Within next 3 months, the company will come up with Gluten free Poori Flour (made especially for making pooris) & gluten free Dalia for healthier breakfast options and raw material for bakeries.
Dr.Rohit Sharma, Project Leader of the BioNEST-PU and also the mentor for MicrofoodsPvt. Ltd., highlighted the importance of such generous funding supports and said, "SEED funds are important in today's era to help growing start-ups gain some confidence. The young startups need such hand-holding today to be able to deliver tomorrow and funding for scale-up reflects our faith in them." He also informed that a successful trial run of the plant was complete on 10thMarch 2020 and that the formal inauguration of the plant was scheduled to be held on 17th March 2020 but was put on hold due to the COVID-19 outbreak. Dr. Sharma informed that the event was to be graced by Professor Raj Kumar, Honourable Vice Chancellor, P.U., Dr.Santanu Dasgupta, Senior Vice President at Reliance Industries Limited, Mumbai and Dr. Manish Diwan, Head of Strategic Partnership & Entrepreneurship Development (SPED), BIRAC. New Delhi which will be done after the things are normalized.
The funding agency, BIRAC (Biotechnology Industry Research Assistance Council) is the public sector enterprise set up by the Department of Biotechnology, Government of India to support the budding biotechnology. It supports various schemes launched by the Government of India like- Startup India, Make in India, Invest India, Ayushman Bharat and multiple others by encouraging young researchers, innovators and entrepreneurs to innovate for a better and brighter future of the nation. While FITT (Foundation for Innovation and Technology Transfer) is a registered organisation housed at IIT-Delhi working at the industrial interface to help budding startups make and sell their own technologies.