Bindra inaugurates two covid vaccination camps
Punjab Youth Development Board to give fulsome support to industries in vaccinating their workforce: SS Bindra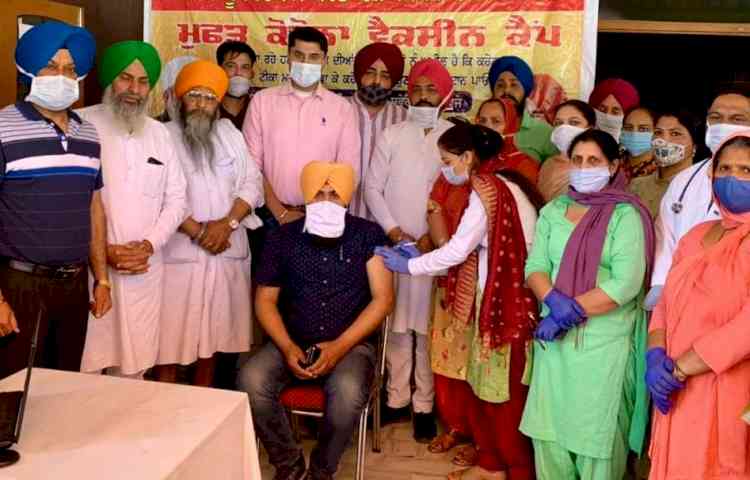 Ludhiana: The Chairman of Punjab Youth Development Board (PYDB) Sukhwinder Singh Bindra on Wednesday inaugurated two vaccination camps in Gurdwara Reru Sahib and 33-ft road in Sahnewal. 
After kicking off the inoculation camps under the 'Vaccination at Doorsteps' drive of the district administration, Bindra said that the administration is making all-out efforts to administer the dose of the Covid vaccine into the people's arms of the entitled category and PYDB would leave no stone unturned to ensure speedy coverage of the those eligible at the earliest. 
He said that PYDB would facilitate the industries in organizing the immunization camp inside their premises to inoculate the labour and all from the prioritized category age-group. 
He said the industries had earlier wholeheartedly supported the board by providing sports kits to the youth clubs in the state free of cost and now PYDB would lend fulsome support to them. 
Bindra also exhorted the people to come forward and accept the vaccine by doing away with the hesitancy and fear. He said that the vaccine is completely safe and effective to contain the spread of the virus by creating herd immunity. 
Prominent among present occasion included Mandeep Singh, Harminder Kumar, Satwinder Singh, Kulwinder Singh Kalla, Sandeep Bhatia, Manjinder Singh, Harpreet Kaur Grewal, Harjit Kaur, Malkiat Singh, Paramjit Singh, Baba Joga Singh, Kamal Sharma, Jarnail Singh, Harvinder Kumar Pappi, Nitin Tandon, Hardeep Mundian, Sunita and Surinder.