Be ready for mock inspection of NAAC from August onwards
PU VC addresses Chairpersons meeting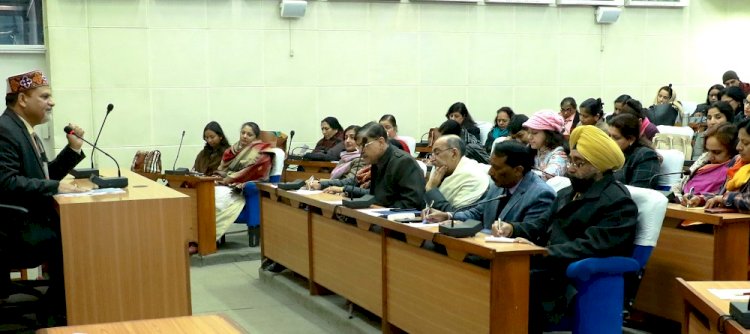 Chandigarh: With the aim to enhance National Assessment and Accreditation Council (NAAC) ratings, which is due in the year 2022, Prof. Raj Kumar, Vice Chancellor, Panjab University, Chandigarh today informed all the Chairpersons in the meeting to be ready for mock inspection of NAAC from August onwards. Six feedback forms have been sent to the department to get their inputs. PU VC also urged all departments to work for curriculum revision and keep in mind inter-disciplinary approach for integration as per the new Education Policy. 

With respect to new courses and additional seats, PU VC asked the departments to submit the proposals at the earliest to Dean Research. He informed that the University is exploring the proposal of returning 50% of the fees to the Department for its development. It was also asked that the information related to grants received and the achievements of the department be sent timely to Dean Research. 
It was further informed that PU has received encouraging response related to NRI admissions and urged all to work in this direction. PU VC informed that a space of 5000 sq.ft. in Section 25 Campus has been identified for opening of Incubation Centre. Informing, that PU has a rich heritage and vast potential in all fields, the ideas for the Start-up Policy will be received and the selected ideas will be given grant of Rs.1-3 lakh each. He urged to connect all departments through Entrepreneurship and Skill Development. At least 50% of the classrooms should be Information and Communication Technology (ICT) equipped. He asked all the departments to compile data to track about the figures for placement of students, entering Start-ups, students going for higher studies and also for students doing nothing. It was also informed that there are 8 parks in the University and the upliftment committee has been formed to look into beautification of University Campus. 
Prof. Karamjeet Singh, Registrar informed that a meeting is conducted every Friday to review the pendency of cases and he informed that as on date there is no pendency. Prof. Parvinder Singh, Controller of Examination informed that in order to make PU as a benchmark University, necessary efforts are being made to issue degrees/diplomas on the same day of the release of result. He urged the departments to enrol with National Academic Depository(NAD) in order  to start online issue of degrees for the students of Ph.D from this year. 
All senior officials along with the Chairpersons of all the departments were present in the meeting.