Ar Pappal Suneja from IIALC gets best Punjab Young Architect Award 2021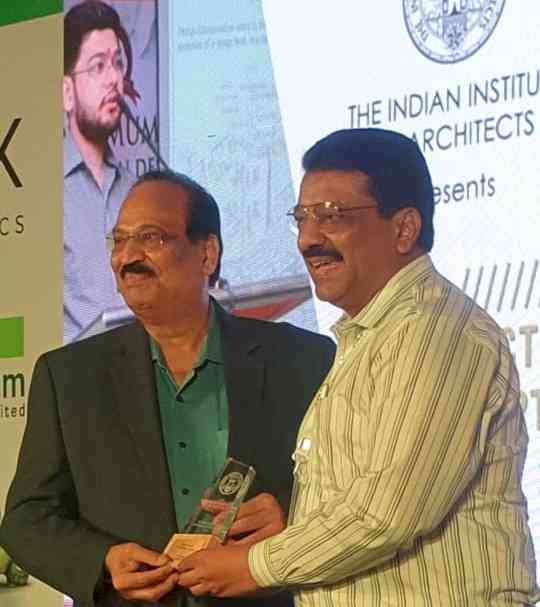 Ludhiana, October 25, 2021: Architect Pappal Suneja from Indian Institute of Architects Ludhiana Centre (IIALC) got best Punjab Young Architect Award 2021 from IIA National President C R Raju as nominated by IIA Punjab Chapter.
Ar Sanjay Goel- Chairman Indian Institute of Architects Punjab Chapter (IIAPC) and one of the Director of Ludhiana Smart City Ltd not only attended IIA National Council meeting in Ranchi but also collected Pappal Suneja's trophy from IIA President in a glittering event held at Ranchi, a part of annual Young Architects Festival. Pappal is resident of new Kitchlu Nagar on Humbran road and is away to Germany to further fulfil his professional assignments. 
Pappal is a design researcher, an architect, an author, and an explorer. He is the author of 'Exploration of Architectural Journalism', 'Myriad Disciplines of Architectural Writing' and 'Revered Reminiscences'. Pappal is the founder and curator of the Architectural Journalism & Criticism Organisation, International Correspondent; Architecture-Design-Art Magazine, Studio Lead and Project Coordinator for Bauhaus Open Studios IN. He has also mentored Undergrad Fellowship program for Architecture at the University of Rome, TorVergata, Italy in summer 2019. Recently, he has won the WA Awards 10+5+X in the 35th and 36th cycles. His entry "What's Up Paris" was awarded in the WA Awards, 35th Cycle in Academia category, while "Cost-Effective Habitat" won the WA Awards, 36th Cycle.
Currently, He is pursuing Doctorate of Philosophy (Dr. Ing) from Bauhaus University Weimar, Germany and is a Visiting Lecturer at Anhalt University of Applied Sciences, Dessau.
Ar Palka Kaur another IIALC member participated in National Level Cultural program and shared her melodies. Her singing hobby was praised  in addition to her professional capabilities .
Young Architect Festival is an annual event of Indian Institute of Architects having head office at Mumbai.  This year one nominated Architect from each Chapter/state was honored.  Event was organized in a big way by at Ranchi by IIA Jharkhand Chapter led by Ar Sandeep Jha.