Apeejay International School celebrates its Annual Day with hope of better tomorrow
Dr. Mahesh Sharma, MP invited as Chief Guest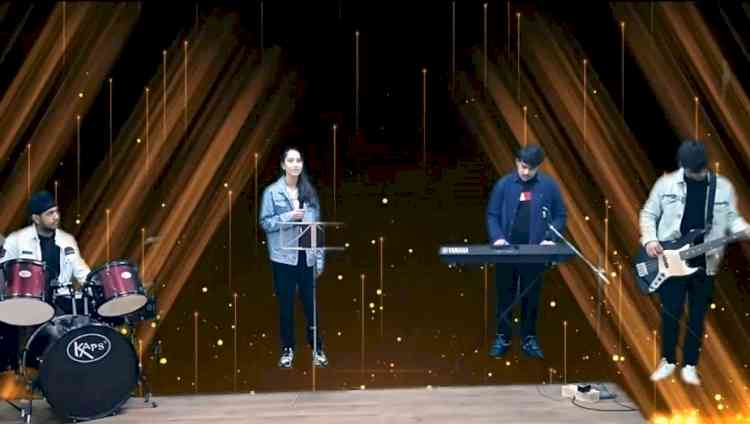 Greater Noida, February 18, 2022: Apeejay International school situated in Greater Noida recently organised its annual appreciation day "Abhyudaya- A New Beginning" in virtual mode. The virtual extravaganza was aimed at spreading positivity by welcoming a new beginning after a series of pandemic waves. 
Students demonstrated how the world has gone through various positive transformations in the recent times through their performances. This was mainly centered around some recent technological transformations such as fuel car to electric car, from old banking system to new transaction and preceded with growth of the world. Besides, the students displayed an array of performances in the form of singing, dancing, instrumental, art, photography, fancy dress, elocution, street play on healthy mind and happiness.
    
The programme commenced with the lamp lighting followed by an invocation dance by the students. The esteemed Chief Guest for this year's Annual Day was Dr Mahesh Sharma (M.P. Gautam Budh Nagar, UP and former Union Minister). Mr. Love Kumar (IPS) was Guest of Honour. The event was presided over by Mr. Aditya Berlia, Co-promoter, Apeejay Stya and Svran Group, Co-founder, Pro Chancellor of Apeejay Stya University.

In his address, Dr. Mahesh Sharma appreciated the efforts made by the School in organizing the event and said: "Apeejay is a big brand in education due to the late Dr. Stya Paul who was an eminent industrialist, educationist, philanthropist and a freedom fighter. Dr. Stya Paul has been instrumental in the rise of Apeejay. His name will always glitter like gold in the history of education. Now his legacy is being carried forward by his daughter and only child, Mrs. Sushma Paul Berlia.  She is a leading woman entrepreneur and industrialist of the country, who has made outstanding contributions to the cause of industry, woman empowerment and education."
Reminiscing Apeejay Schools' technological adoption and innovation during COVID restrictions, Mr. Aditya Berlia, said: "I believe all things start and end with gratitude. Millions of students in India didn't receive even a single day of virtual education. This is the luxury and privilege that we all have due to the large investment we have made in cloud computing, teacher training, and other areas. Within a few days of lockdown, we were able to shift 100 per cent from offline to online and fulfil all our examination commitments and this was only possible by the extreme hard work of our parents, teachers, and staff, who all went above and beyond to create a strong and supportive community."
The school principal Dr Sarita Pande shared the annual report and highlighted the school's achievements including all the initiatives that were taken under each developmental pillar of our school. 

The program was followed by the achievements of students in scholastic and co-scholastic areas which aimed in appreciating the efforts of students not only in academics but also in sports, music, dance and other co-curricular activities. 
Attendees praised students and teachers for successfully organizing the event that was full of creative expressions.