Amity institute of Travel and Tourism Amity University organised AITHC 2021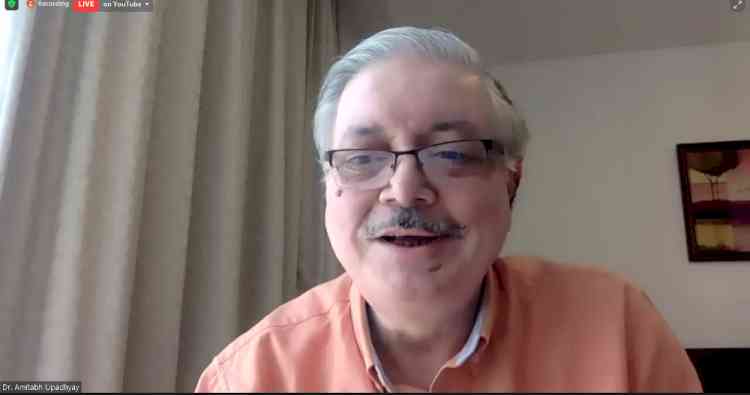 Dr Amitabh Upadhyay, President, Global Business Studies addressing the gathering.
Amity institute of Travel and Tourism Amity University organised two day International Tourism and Hospitality Conference (AITHC 2021). The theme of the conference was "International Conference on Tourism for Inclusive Growth: Promoting equality and Sustainable Economic Development", and it was organised to commemorate the World Tourism Day 2021.
Inaugurating the conference,  Shripad Naik, Minister of State for Tourism and Minister of State for Ports, Shipping and Waterways said " Tourism is the world's biggest industry which creates jobs for all sectors of society, builds foreign exchange reserves and boosts economy. With inclusive tourism, we can achieve and meet 10 out of 17 Sustainable Development Goals of the United Nations, wherein Goals like No 5 for gender equality, No 8 for industry, innovation and infrastructure development can be met with the development in tourism sector.  He appreciated the international conference being organized by Amity and said that such conferences will be helpful in inclusive development of tourism. Tourism contributes to the social, economic development of the country and it is a major industry of the world with which a large number of people are connected. The future of tourism is also based on the environment, by developing and preserving the environment, there will be development in the field of tourism. In the present time, information communication technology has given a new dimension to the tourism sector and all the countries in the world are associated with the tourism industry. Hon'ble Minister said that under the leadership of the Prime Minister, efforts are being made by the Government at various levels for the development of the country's tourism industry. He also briefed about the guidelines being issued by the Ministry of Tourism to the tourism industries and said tourism industry needs to regain its aura once again post covid. He suggested to increase the building capacity of hospitality industry, operationalization of hotels, Home stays, B&B etc and outlined several initiatives like Saathi, Incredible India, Dekho Apna Desh, Ek Bharat Shreshtha Bharat etc. which the government have rolled out to boost tourism.
 
Dr. Ashok K Chauhan, Founder President, Amity Education Group said the speech given by Hon'ble Minister, is a big encouragement for all of us. "India has the potential to become self-reliant in every field and we have full faith that soon we will be self-reliant in every field. We at Amity organize such conferences for students to provide opportunities available in the tourism sector and also to get guidance from experts in the field. Presently there are many opportunities available in the tourism sector via innovative determination" said Dr. Chauhan.
 
Dr. Amitabh Upadhyay, President, Global Business Studies (GBS), Dubai, UAE said pandemic has hit the tourism industry. Big industry groups will soon bring themselves into the mainstream, but mostly small industries have been affected more. Improvement in environment, reduction in energy consumption, more focus on health security infrastructure and development of information communication technology etc. are some of the positive effects of  this pandemic. Development can be called inclusive only when social opportunities are developed and to achieve equitable and sustainable growth, economic distribution needs to kept in mind. Tourism development should be compatible, community centric and gradual, race for competitive advantage should be avoided, commented Dr. Upadhyay.
 
Prof S P Bansal, Vice Chancellor, Central University of Himachal Pradesh & President Indian Tourism & Hospitality Congress (ITHC) said today is the day of introspection for the people associated with the tourism industry. The target of leaving no one behind with the development of the tourism sector has been set by the UNWTO. "We must look to the future of the tourism sector after the pandemic and be prepared to meet the global challenges. He said that in the field of tourism education, new areas should be included as per the new education policy".
 
Prof Harold Goodwin, Professor Emeritus and Responsible Tourism Director at the Institute of Place Management at Manchester Metropolitan University, Managing Director of the Responsible Tourism said that sustainable tourism will develop through responsible tourism. India should incorporate the local people in the inclusive development of tourism. India is technically very developed and use this technology to develop new tourist destinations and focus on yield in tourism sector.
 
On the occasion, Prof (Dr) M. Sajnani, Dean Faculty of Hospitality and Tourism, & Director, AITT, Amity welcomed the guest and said more than 50 International experts and scholars will present their views in different sessions and more than 70 research papers are being presented in this conference also.
During the technical session, Chris Flynn, President & CEO, World Tourism Association for Culture & Heritage, Greater Sydney Area, Australia shared his views on  Leadership challenges to achieve sustainability in Hospitality and Tourism; Prof. Manjula Chaudhary, Dean,  Academic Affairs,  Kurukshetra University shared her views on Social Entrepreneurship & Sustainbility; Prof. Prashant Gautam, Professor, Panjab University, Chandigarh sahred his views on Building Peace through Tourism; Dr. Md Ariful Hoque, Department of Marketing, Faculty of Business Studies, Jahangirnagar University,  Dhaka, Bangladesh shared his views on An integrated tourism; A Tool for Poverty Alleviation amongst others.