Amidst few incidents of poll violence, overall things remain peaceful in border district
Situation became tense when AAP and BJP workers clashed at Village Gatti Rajo Ke during which one AAP worker was severely injured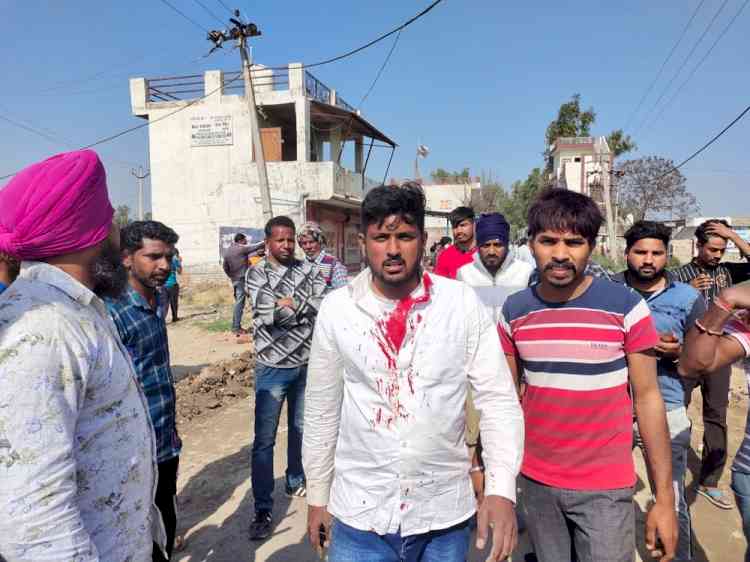 Ferozepur, February 20: Situation became tense when AAP and BJP workers clashed at Village Gatti Rajo Ke during which one AAP worker was severely injured. As per information available, the AAP worker identified as Surjit Vlasara had heated arguments with the BJP workers following which he was allegedly thrashed. 
As soon as the matter was reported, senior officials including Deputy Commissioner Girish Dayalan, SSP Narinder Bhargav and others reached the spot and pacified the situation.  Heavy police force was deployed to avert any kind of untoward incident. Meanwhile the enraged AAP workers demanded the immediate arrest of the accused.  
When contacted, DC Dayalan said that a special surveillance team of CRPF and SST is attached. "The entire videography will be reviewed and on the basis of the Medico Legal Report (MLR), necessary action shall be taken", said DC.
In another incident, SAD and Congress workers clashed with each other at Mallanwala block in Zira assembly segment and threw bricks at each other. At Zira, few unidentified miscreants attacked Sukhdev Bittu Vij SAD worker and Ex-President of Arthiya Association yesterday night. The accused allegedly attacked on his vehicle while he was coming back in his car after attending a function. In other case registered at Arif ke police station, the police booked Chairman of the Market Committee (Ferozepur city) Sukhwinder Singh Attari and other Congress workers identified as Davinder Singh, Avtar Singh, Gursharan Singh besides 150 unidentified persons at Arif ke police station under sections 307, 341, 427, 506, 148, 149 IPC. Earlier, the police had booked 20 unidentified persons for allegedly thrashing two media persons at city police station. 
Amidst, few of such incidents, overall the polling process remained peaceful in the district. Around 66.12 percent of votes were polled which include 60.50 percent in Ferozepur (Urban), 68 percent in Ferozepur (Rural), 63 percent in Zira and 73 percent polling had taken place in Guruharsahai assembly segment till 5 pm. 
In Guruharsahai Fouja Singh Srari, AAP candidate alleged that SAD workers have distributed money to get votes. Srari said that he informed to the police also but no action has been taken by the police. When contacted, Vardev Singh Noni Mann, SAD candidate from Guruharsahai said the AAP has lost in Guruharsahai due to which AAP leadership is leveling such allegations. 
At few places, including Mamdot, Ferozepur Rural, Ferozepur Urban, Makhu the EVM machines remained non-functional due to some technical problem. 
Surjit Kaur, PWD (Person with disabilities) and first time voter and a resident of Village Jhugge Hajara said that she was feeling very proud. "I specially came here to cast my vote on wheel chair with my parents. I also encouraged my friends to cast their vote and become a part of our nation's democracy", said Surjit. 
Shubra Sharma, daughter of former BJP Punjab President Kamal Sharma also cast her vote today. She was given appreciation certificate and a rose by the Booth Level Officer.