Aarav Solutions launches Sanvid
Sanvid, an initiative to provide equal learning opportunities in digital technology, life skills and personality development for school students in rural India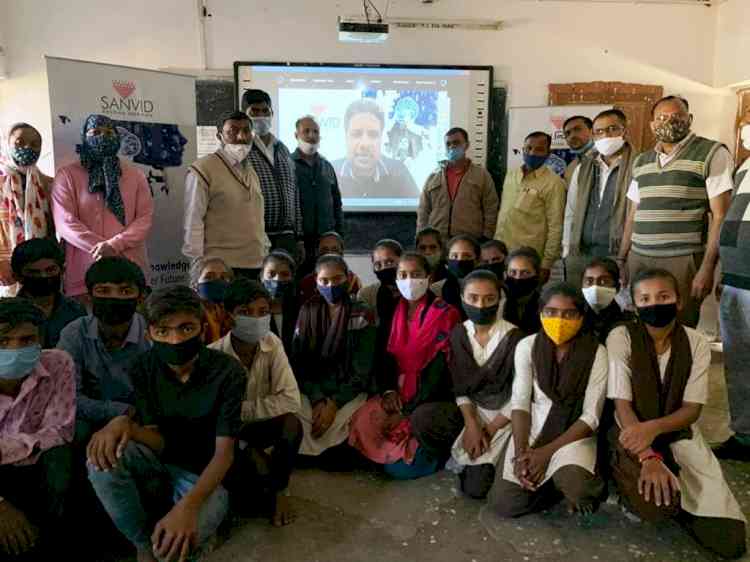 Raj Darji, Founder & CEO, Aarav Solutions and Founder Trustee of Sanvid with Maharana Pratap High School Students and Teachers.


Mumbai: Jadishwar Charitable Trust, Supported by Aarav Solutions, a pioneer in the global product engineering and IT consulting services space, today launched 'Sanvid', an EdTech initiative that aims to provide equal learning opportunities in computer education, digital technology, life skills, language skills and personality development for school students in rural India. The program will kickstart from the Maharana PJ High School, Jangral, Dist. Patan Gujarat the first Sanvid Champion School in Gujarat. With intent to bridge the gap between the youth and the mainstream digital world, the program's ambition is to empower students by equipping them with computer based education.
 
Sanvid, a Sanskrit name depicting knowledge, is an initiative curated with the aim of developing an edtech program which is deeply rooted in our education system and focuses on nurturing young talent.
The logo is influenced by the Saraswati Yantra, a medium through which Saraswati, the Goddess of wisdom and knowledge, bestows education. The program is designed for beginner, intermediate and advanced levels irrespective of the grade in which the students start. It will also be extended to teachers who wish to teach and learn the computer programs. The modules and courses being planned will all be certified and there is a scope for outstanding students to avail scholarships for further education in information technology and computer engineering.
 
The penetration of digital education into rural India is fast evolving. In the rural schools, the quality of teaching as well as learning is not competent with the evolving changes. There is zero or very basic level of computer education or knowledge of information technology across all these schools. There is also a dire need to train the teachers. Infrastructure and the Internet are other two key needs in these schools. Sanvid offers the students a unique opportunity to get access to devices and experience technology firsthand. On account of COVID-19 situation, the students will be given access to the devices and internet services.
Sanvid will offer an educational framework with life skills essential for career such as spoken English, humanities, growth mindset, financial management and career counselling for personal growth at its core. Experts like technocrats, academicians and a project manager will be involved in training young minds to excel in information technology and prepare for a better future. It will start from Maharana PJ High School in Jangral, Patan and expand to other champion schools in Patan. Sanvid is a step towards building a community of learners and teachers solely with the purpose of sharing knowledge wherein anyone from parents to students can seek help for learning.
Mr. Raj Darji, Founder & CEO, Aarav Solutions and Founder Trustee of Sanvid, said, "We are making an active choice to be the catalyst of change to more than a million lives starting today. The Sanvid initiative is a much needed and cost-efficient step towards connecting young students in rural and semi-urban regions of India to the wide world of information technology and digital through customised computer education. I am happy to launch the same in my home state of Gujarat. This will also enable schools to become Smart Schools in the truest sense. Already the way of learning and education is moving digital and online, and Sanvid will use this transition further to make rural students embrace and understand IT education better.''
He added, "When I started living in the USA, I witnessed a phenomenal difference in the kind of educational resources available to children in the US, as compared to our schools back in India. This prompted us to come up with a solution. A program like Sanvid will not only provide an equal opportunity for these students but also benefit the society as a whole. With this program, the students will be confident and capable enough to navigate computers and their applications. As we have celebrated the 72nd Republic Day just two days ago, we would like to make a commitment of taking the Sanvid program to at least 72 rural schools across Gujarat in the next seven years."