9th Degree black belt Grand master Bikram S Thapa distributed black belts to all students at Panchkula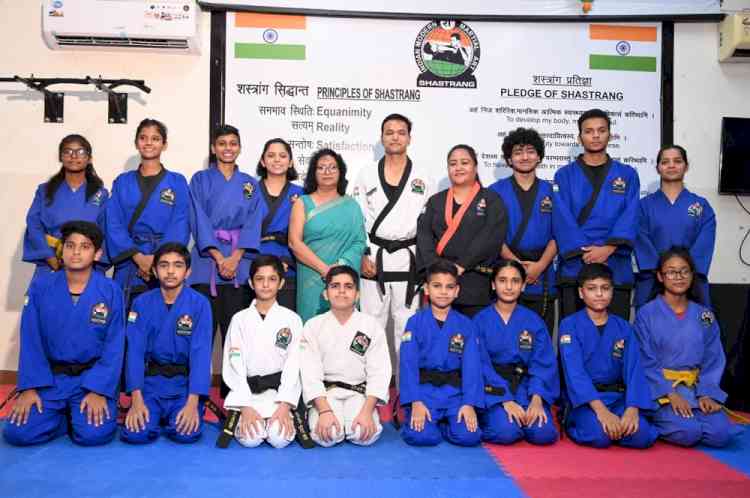 Panchkula, August 29 2021: The head office of Shastrang school of Martial arts located at Sector-16 Panchkula Distributed black belts to all the students who qualified the black belt test held a few days ago.
Nidhi Thapa the Director of Shastrang India Martial Arts has graced the occasion with her presence. The participants for the 1st degree black belt test were Abhay Dhanraj Bansal, Shriam Ranjan, Akshit Kumar, Ayush Kumar, Arjun Gargesh and Yaspal.
While Aashima Nidhi and Rosy were presented with 3rd degree Black belts.
The founder of Shastrang India martial arts,Grand master Bikram Thapa has congratulated all the participants and winners and told that this experience of black belt test would be same as being promoted for further higher education in the combat athletics.
On this occasion, Nidhi Thapa(Director) has also revealed that this unique combat style/form has been created by grand master Bikram S Thapa with his personal experiences and vast knowledge of different martial art styles and experimenting with scientific principles to improve and develop this form of close quarter combat.
She also told that grand master was planning since long to improve the overall training skills with his life long career in martial arts. Now his dream comes true with the establishment of Shastrang India Martial Arts Institute at Panchkula,Haryana.
She Also told the word Shastrang is derived form sanskrit "Shastra meaning weapon and Ang meaning body part" to turn your each and every body part into a weapon.
in this training it teaches you to protect yourself against anything in any situation without even carrying a weapon, As our body is already capable of defending itself from any diseases by fighting back, She Also added that martial art was invented in India and later on adopted by foreigners with different names.
As well as the Yoga is the key to good health which is also adopted by the whole world to teach and learn. Even yoga is also included in Shastraang Training to warm up and cool down the body in various practices.