72nd Republic Day celebrated by Offset Printers' Association 
Every year Republic Day is celebrated in India on 26th January with zeal and enthusiasm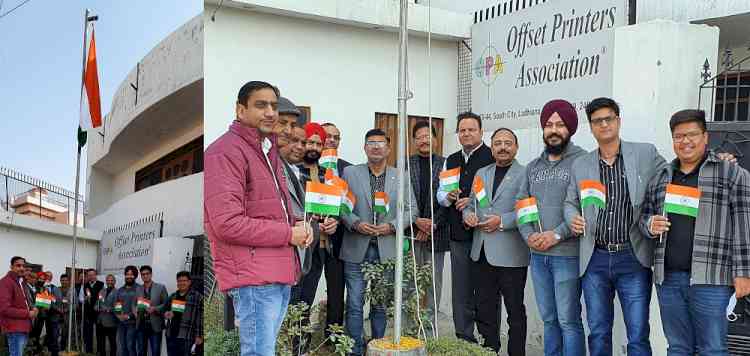 Ludhiana: The 72nd Republic Day was celebrated by Offset Printers' Association (OPA) at its office at South City, Ludhiana. National flag was unfurled by Mr. Parveen Aggarwal, President of OPA and after reciting national anthem sweets were distributed. Speaking on the occasion Prof. Kamal Chopra, General Secretary OPA said, it is the time to remember our heroes who were instrumental for the independence of our nation. It is the time to pay homage to all known and unknown stalwarts who sacrificed their life so that we can live peacefully in an independent country. It is therefore to celebrate the national days is the prime objective of OPA, Mr. Chopra added. 
Earlier speaking on the occasion, Mr. Parveen Aggarwal said, every year Republic Day is celebrated in India on 26th January with zeal and enthusiasm. Spectacular parades at Janpath, New Delhi, consisting the Indian National Army and national flag hoisting in various parts of the country are common practices followed on this day. It was this day in history in 1965 when Hindi was declared as the official language of India. This year it will be marked India's 72th Republic Day. 
Telling the importance of the eve, Mr. Aggarwal said, after attaining independence from the British rule, the new constitution was enrolled by the drafting committee under the deanship of Dr BR Ambedkar. The Indian Constitution came into effect on 26 January 1950, which declared India's occurrence as an independent republic. January 26th was chosen as the date because on this day in 1930, the Indian National Congress revealed Purna Swaraj, the declaration of India's independence from the colonial rule.