7 Tips to choose Overseas Education Consultants
Are you planning to study abroad? Many students are often confused about choosing the right overseas education consultants. Choosing to Study abroad is a lifetime experience and it can turn into a nightmare if you do not choose your overseas education consultant properly.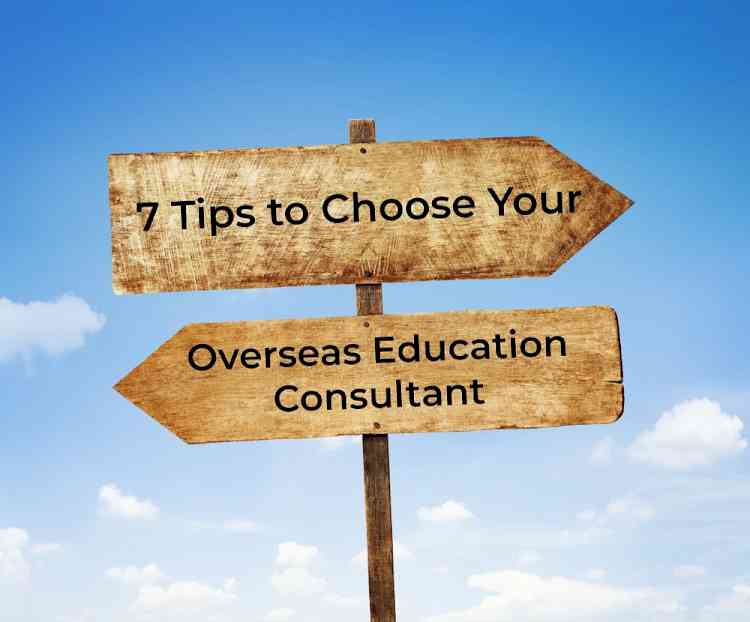 Are you planning to study abroad? Many students are often confused about choosing the right overseas education consultants.
Choosing to Study abroad is a lifetime experience and it can turn into a nightmare if you do not choose your overseas education consultant properly. Many students think a good overseas education consultant will charge huge money for career counseling and processing, But there is no need to pay a single penny. Consider these factors while choosing your overseas consultants which can help you to choose the right one.
1.Qualified & Experienced.
First and foremost, the thing to consider is whether the consultant is qualified to advise students about their study destination choice and how many years of experience they do have in this field. There are many consultants who are not qualified and still counsel students about their career choices. Students fall prey to these kinds of consultants unknowingly and regret their decision to lose valuable time and money. Check out the owner's profile on the internet and confirm the credibility of the information from known sources. Generally, counselors who are qualified will have ICEF Certification confirming their eligibility to counsel students and provide biased and ethical suggestions to the students.
2.University representations.
Confirm whether the organization you approached has university representations or they work with third-party agents to process your admission. If your consultant represents universities it will lead to a faster process avoiding any communication delays with the university. You can get timely updates from your consultant regarding your application status and will be able to provide any further documentation required by the university in a timely manner avoiding unnecessary delays that may arise if your consultants are working with third-party agents.
3.Certifications of the Organization.
Check what are the certifications that the organization has before confirming your process with them. There are many international organizations that provide certifications to qualified organizations that follow ethical practices in their operations and counseling students. Some of the international organizations which provide certifications to organizations are ICEF, NAFSA, AIRC, British Council, PIER, AAERI, and many more
4.Reputation in the market.
One of the main aspects is to consider is to verify from how many years the consultants you choose are in the market. As well established the consultants are the better. This might not be true in all cases as we have come across scenarios where the students are not satisfied with the services that the consultant has provided and small mistakes made by the consultants led to visa refusals which would have been avoidable if consultants are a little bit careful. These kinds of things might happen because of the high volume of applications a consultant might process and not able to provide individual attention to each and every student. As all the student's profiles are not the same consultants must provide attention to each individual to make sure of their visa success. Check for the reviews online and make sure that if any of the previous students have given bad reviews ask them for clarification and make sure it will not happen with you.
5.Processing fee.
Most of the reputed consultants charge a nominal processing fee depending upon the area of their operation. But if you think they are charging huge amounts change your consultant. As per the agreement with the University consultants has, they are not allowed to charge huge amounts for the services they provide to the students. This is not only in the case of universities represented but in the case of processing for the universities which they do not represent as well. Some consultants might try to charge for the services they provide like a dedicated counselor, Faster admissions, or so on. But just keep in mind that no consultants are able to provide a dedicated counselor only for yourself and cannot fast up the admission process. Admission processing timelines are set by the Universities and consultants cannot influence them.
6.Transparent process
Make sure that process will be transparent and a consultant will use your personal mail ID for applications to the universities. Some of the consultants use email ID'S created by them so that they can make sure that students will not be aware of the third-party processing agent they are working with. These kinds of practices will lead to unnecessary delays in processing applications and if any further information is required students will not be aware of the documentation they need to arrange as a consultant cannot monitor all the emails all day. If a student's personal mail id is used then it will provide confidence to the student that the offers they are received are genuine and not tampered with them in any way.
7.On-time service
Before enrolling with the consultant make sure about the processing timeline and in most of the cases the decision will be provided within the timelines enclosed by the consultant. But occasionally there may be delays due to the volume of the applications received by the university, Vacations, or public holidays abroad. As time is a crucial factor while processing, delay in admission leads to delays in acceptance from Universities, Loan process & Visa process leading to missing desired intakes. Though the above-mentioned factors look like little can make a major difference and can create a hurdle to your dream of studying abroad.