7 Day special NSS Camp concludes in high spirits in GHSC-10 
Principal of the college, Prof Sudha Katyal lauded the efforts of the entire NSS team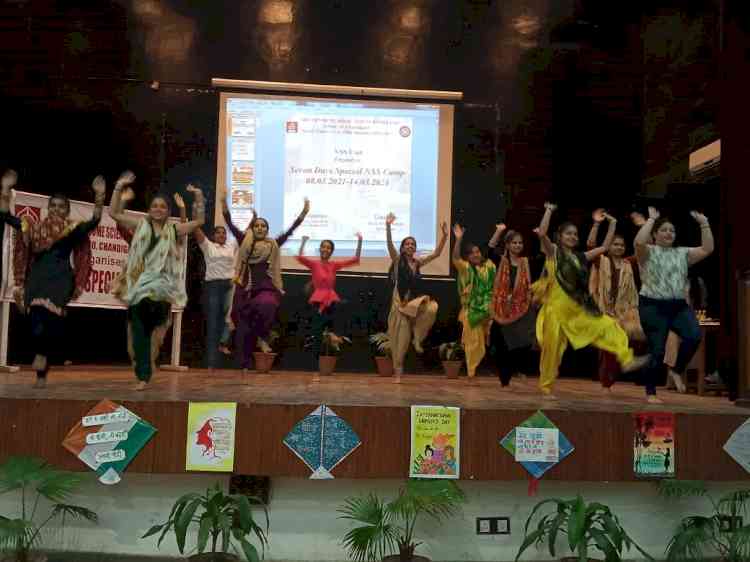 Chandigarh: A valedictory function marked the culmination of the seven day NSS special camp in GHSC-10 that began on March 08, 2021. 
Sh. Bikram Rana, State Liaison Officer (NSS), Chandigarh Administration (UT) graced the event as the Chief Guest. He appreciated the efforts of NSS wing of Home Science College in harnessing the energy of youth for social upliftment and inculcating in them a sense of responsibility for ensuring a sustainable future. Referring to volunteers as the architects of a better India, he exhorted them to promote unity and harmony for national prosperity. He lauded that NSS Unit of Home Science College under the able leadership of Principal, Prof Sudha Katyal , has taken the activities conducted to a higher level in the domain of social outreach and responsibility. 
The valedictory function began with performance of yoga asanas for mental health by the volunteers. This was followed by showcasing of glimpses of all the activities performed during the camp. The camp focused on key initiatives of swacch bharat abhiyan , aatm nirbhar Bharat, Swasth Bharat, skill building & entrepreneurship, self defence, Ek Bharat Shrestha Bharat and Bharat ka Amrut Mahotsav. Other key features were  Contribution of Freedom Fighters in India's Freedom Struggle, Recycling and zero waste management. One could see a flashback of all the activities conducted during the camp in a finely scripted Nukkar Natak. In a cultural extravaganza, NSS volunteers sang patriotic songs and showcased a dance on a punjabi and garbha number followed by a special fusion performance to promote EBSB.
Principal of the college, Prof Sudha Katyal lauded the efforts of the entire NSS team and encouraged the students to take up social responsibility and hone and utilize their skills to the fullest for a better and stronger India.