7-day online faculty development program on contemporary research practices in social sciences commences at Amity University
Day one kicked off with Prof. (Dr.) S. P. Bansal, Vice Chancellor, H P Tech. University, Hamirpur as the key note speaker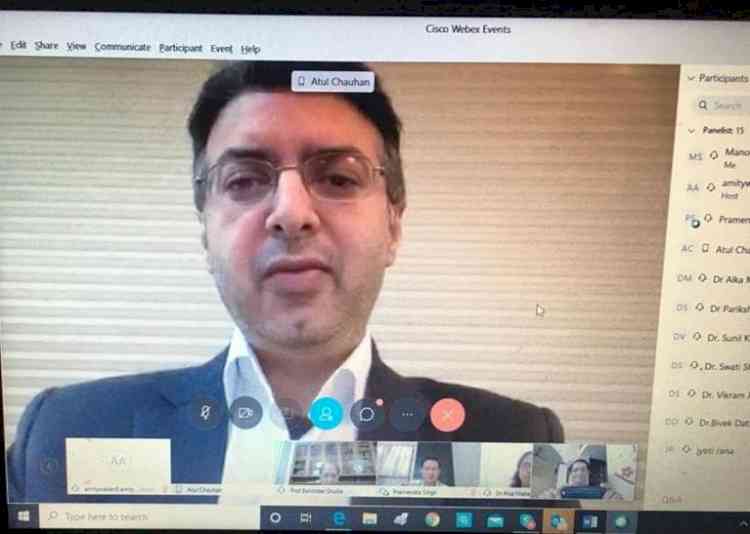 Online Faculty Development Program addressing by Dr Atul Chauhan, Chancellor, Amity University.
An online Faculty Development Program (FDP) on 'Contemporary Research Practices in Social Sciences' commenced at Amity University.  Day one of the week-long virtual FDP was kicked off with Prof. (Dr.) S. P. Bansal, Vice Chancellor, H P Tech. University, Hamirpur as the key note speaker and eminent panelists including Prof.  Jyoti Rana, Skill faculty of Management Studies & Research, Shri Vishwakarma Skill University, Haryana and Dr. Asha Chawla, Associate Professor, Maharishi Dayanand University, Rohtak.
 
Dr. Atul Chauhan, Chancellor, Amity University addressed the esteemed panelist and attendees for the FDP and focused on the importance of research in the contemporary world. He wished all the best for all the participants and showered his blessings on all.
 
Prof. Dr. Balvinder Shukla, Vice Chancellor, AUUP in her address emphasized on the need of faculty to upgrade themselves especially in the research arena. She also underlined the importance of technology during COVID-19 and how it has brought the academic practitioners on a common platform. Dr. Shukla further reiterated the power of technology and its mode to connect people and congratulated the Indian Tourism and Hospitality Congress (ITHC) for their collaboration during the FDP.
 
Welcoming the virtual gathering Prof. M. Sajnani Dean, Faculty of Hospitality and Tourism, Amity University, Uttar Pradesh (AUUP), Noida emphasized on the importance of contemporary research practices in social sciences. Dr. Sajnani briefly touched upon the various topics of discussions during this week-long initiative that would include Qualitative and Quantitative Techniques in Research; Data collection; Measurement and Scaling; Questionnaire Development; Sample Design And Techniques; Tools for Qualitative research with Nvivo; Content Analysis and Literature Review; Meta-Analysis; Data Mining; Data Analysis Tools; Structural Equation Modelling and Bibliometric Analytics.
 
Prof. (Dr.) S. P. Bansal, Vice Chancellor, H P Tech. University, Hamirpur underlined the importance of FDP and also highlighted the key areas of quality research, scholarly knowledge, inquiring the research problem and critical thinking during his keynote address. He also emphasized on the five pillars draft of the National Education Policy namely accessibility, affordability, equity, quality and accountability. Dr. Bansal also talked about the current research data of India and compared it with the other countries of the world.
 
The maiden session of FDP had Prof. Dr. Jyoti Rana deliver her views on 'Introduction to Qualitative Research Methods, Content Analysis and Literature Review' where she averred that literature review is the most complex part of any research and in most cases the most misunderstood one. She added that every researcher should provide the source of the content and due weightage and credibility to the author and how literature review always starts from documented knowledge. "Researcher adds to the existing body of knowledge on a topic and moves on to form research questions, which is very prominent part of any study. When research questions are formulated, they are later shaped into objectives along with suitable hypothesis," stated Dr. Rana.
Dr. Rana also emphasized that researchers now focus on identifying the appropriate scale for measurement of the date and form a research design to conduct the study. She further averred how data collection should be in progress with a pilot study in advance, as it helps to create clarity. It was also stated how literature review can be done through journals (UGC Care List, ABDC Listed), thesis, books, conference papers, reports, newspapers, and e-resource and how the credibility of the e-resource should be thoroughly checked by the researcher before using it. 
The subsequent session by Dr. Asha Chawla, Associate Professor, MDU, Rohtak focused on 'Variables and their measurements, hypothesis testing, pathway to statistical tools'. She talked at length about Variable - Metric variable (Quantitative); Non metric variable (Qualitative); Constant; Mean and median; Averages: advantage vs disadvantage; Types of measurement; Features of nominal scale, ordinal scale, interval and ratio; Decision tree of level of measurement; Hierarchy of measurement and Choice of tests.
 
The FDP will also witness sessions on 'Tools for Qualitative research with Nvivo' followed by Demo session on Nvivo by Dr. Ivan Zupic, University of London; 'Meta-analysis' by Dr. Manisha Sharma, Faculty, GBU, Greater Noida; 'Introduction to Quantitative Research and Data collection, Measurement and Scaling, Questionnaire Development' by Prof. Jogendra Nayak from IIT Roorkee and Sample design and techniques by Dr. Chirag Malik, Associate Professor, BML Munjal University, Gurugram; Structural Equation Modelling (PLS) by Dr. Faizan Ali Faculty, University of South Florida Sarasota-Manatee, USA among deliberations on other prominent topics during the week.