57th annual fair of Sri Sidh Baba Keshav Nath Ji celebrated 
Havan yajna was performed in morning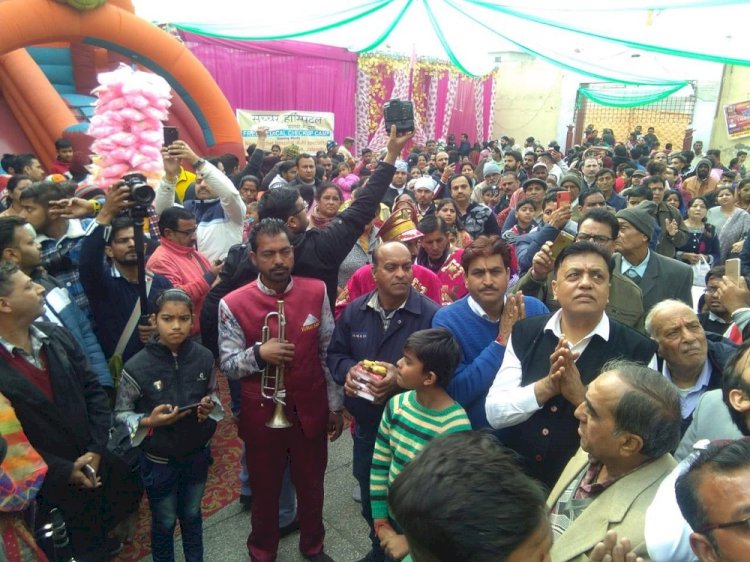 Jalandhar: Sri Sidh Baba Keshav Nath Ji 57th Annual Fair was celebrated with great pomp and show at Mandir Sri Sidh Baba Keshav Nath Ji (Jathera) Sher Singh Colony, Basti Peer Daad, Jalandhar city. Families from Mohindru, Bahri not only from Jalandhar but came from other states and districts today and paid their obeisance at the Samadh of Sri Sidh Baba Keshav Nath Ji. Havan yajna was performed in the morning following by programme organized by Sandeep Maha Kali Group. 
Mohindru Bahri Biradari Sabha (Regd) president Mrs Vandana Bahri and Mr Arun Bahri participated in the havan yajna. At 1 pm the flag was hoisted by the President of the Biradari Sabha Mr Arun Bahri. After the flag hoisting langar to the devotees was served.
Mohindru Bahri Biradari Sabha (Regd) president Mr Arun Bahri said that with the blessings of Sri Sidh Baba Keshav Nath Ji more prosperity and happiness will be showered on you and your families then the previous years. He said that all should financially contribute more then they contributed last year as we are trying our best to make the temple more beautiful. He said that infrastructure development of the temple is on the cards and your contribution will certainly boost our will power.  Some suggestions have been brought to his notice to which he would certainly take appropriate action. Students who had shown their academic performance in education were also honoured. 
Mohindru Bahri Biradari Sabha (Regd) souvenir was released by Mr Shushil Rinku, MLA.  Political, social and religious leaders also paid their obeisance. They included  Mr Rajinder Beri M.L.A. , Mr Avtar Singh Junior M.L.A. , Mr Sushil Rinku ,B.J.P. State Vice President Mr Mohinder  Bhagat , Senior B.J.P. leader Mr Naval Kishore Kamboj, Hind Sewa Samiti (Rashtriya) president Mr Sunil Sharma, Parveen Kohli and others were honored by the Mohindru Bahri Biradari Sabha ( Regd ).The Mela Chairman Mr Parveen Mohindru, Mela Co- Chairman Mr Rahul Bahri, Mela Co-Chairman and Social Media In-charge Mr Puneet Mohindru  carried out their duties successfully and thanked all those who successfully carried out their duties.
While chairman of Mohindru Bahri Biradari Sabha (Regd ) Mr Navneet Bahri, President Mr Arun Bahri, Senior Vice President Mr Salil Bahri, Vice President Mr Manoj Mohindru, Shakti Mohindru, Harish Mohindru, General Secretary Mr Rajat Mohindru, Secretary Rakesh Bahri, Satish Mohindru, Anil Mohindru, Arun Mohindru, Surinder Mohindru, Joint Secretary Mr Rajesh Bahri, Akash Mohindru, P.R.O Mr Deepak Mohindru, Joint Cashier Mr Hemant Bahri, Mela Co-ordinator Mr N.K. Mohindru, Suresh Mohindru, Rajiv Mohindru, Mrs Vandana Bahri, Mrs Neeru Mohindru, Mrs Simmi Mohindru, Mrs Deepika Bahri, Mrs Gauri Mohindru, Mrs Rekha Mohindru, Mrs Sonia Mohindru, Mrs Ashu Bahri, Mrs Renuka Mohindru, Mrs Kamni Bahri, Mrs Anita Mohindru, Mrs Neeru Mohindru, Mrs Shilpa Mohindru, Mrs Monika Mohindru, Mrs Asha Bahri, Mr Vardan Mohindru, Mr. Madur Bahri, Mr Vikas Mohindru, Mr Sudhir Mohindru, Mr Sumit Mohindru, Mr Sanchit Mohindru , Mr Raja Mohindru, Mr Sandeep Mohindru, Mr Rajinder Mohindru, municipal councillors and others were present .  /(Feb 4)