'2020 has highlighted Resilience of People' opine Experts at Amity University  
The luminaries answered students' questions about future job prospects across the globe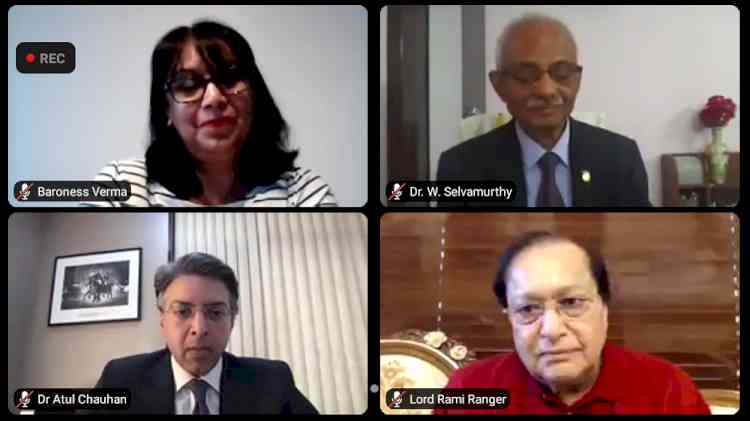 The Europe - NRI Symposium focusing on Global Indians: Towards World's Growth Story was inaugurated today at Amity University. The first of the three sessions with the distinguished luminaries looked to provide students a platform to get inspiration from their first-hand success stories, understand the skills required for global careers and broaden horizons to appreciate the best practices & opportunities across the globe.     
 
Inaugurating the session Dr. Atul Chauhan, Chancellor, Amity University averred that India is now at the pivotal point in history, looking to become a great global superpower. He shared that the country has the largest youngest population and a great education system that will make its future bright. He added that the series of symposiums will allow sharing of knowledge and experiences of successful global Indians to inspire the upcoming generation. He stated that vision of Amity is to be research driven, outcome oriented & inculcate in its students to always give back to society.   
 
Baroness Verma, Member of Parliament, United Kingdom stated that Amity is a great example of global Indians coming back to their country and investing in its success. She called for collaboration and sharing of best practices, knowledge & ideas to tide over the pandemic. She stressed on the need for digging back in history and recall the teachings & sayings that made India attain a formidable global position. She asked students to learn to disseminate truth from the untruth, to make the most of the opportunities they get and how year 2020 has highlighted the resilience of people. She also stated that humility & humbleness are the keys to success.    
 
Lord Rami Ranger, Member of Parliament, United Kingdom, Founder Sunmark Group, UK shared his journey of coming from a humble background, struggles and the integral role his mother played in driving him to achieve success. He stressed on women empowerment to be a pre-requisite for a successful society. He averred how India has shaped the world through its great leaders and its philosophies like Mahatma Gandhi. He called for wholesome development of students for the growth of the country. He shared the five principles that made him successful including preserving self-respect; having commitment; ethics; being empathetic and to have vision. He recommended for building strategic alliances across the globe to grow. He also lauded the Indian values that have stood the test of time & advised students to make them as their bedrock for growth and have a holistic outlook towards life. He asked students to spend some time alone and discover themselves.   
 
Mr. Jim Bligh, Director, Corporate Affairs, TCS, UK stated that these are exciting times for India-UK relations with enhanced partnership on skills & trade. He also shared that academic partnerships too would play a key role in the future between the two countries. He stated that being adaptable, agile & to be constantly upskilling and reskilling is the key to grow as shown by the pandemic. He averred that the role of purpose of business is integral to grow and attain success. He advised students to keep asking questions to business leaders and learn from their experiences.   
 
Dr. Kamal Bhattacharya - Co-Founder and CEO of Advancity - Ex Professor MIT Sloan and Professor, IUBH Germany shared his journey of growing up in an immigrant family in Germany & his interest in pursuing science education. He called for making education system impactful, employment focused and R&D focused. He laid stress on the need for India to take a leadership role in the future.   
 
Ms. Lakshmi Kaul, Head CII, UK stated that the success Indian education has achieved owes to the training & philosophy of being global citizens. She shared that India is leading the campaign of being self-reliant in the pandemic times by its Atmanirbhar Mission. She also stated that success comes with collaboration, joint initiatives and knowledge sharing & talked about the various categories of living bridges that connect the world.   
 
Prof. Dr. Gurinder Singh, Group Vice Chancellor, Amity Universities welcomed the guests in the gathering who have driven Indian ethos to the masses and are an inspiration in the business world but are also leading the way in giving back to the society. He stated that these global Indians will act as success engines who will drive the students.   
The session was well attended by students, faculty members and staff from across the globe. The luminaries answered students' questions about future job prospects across the globe.