11th Panjab University rose festival kicked off
Cultural night was held at old convocation ground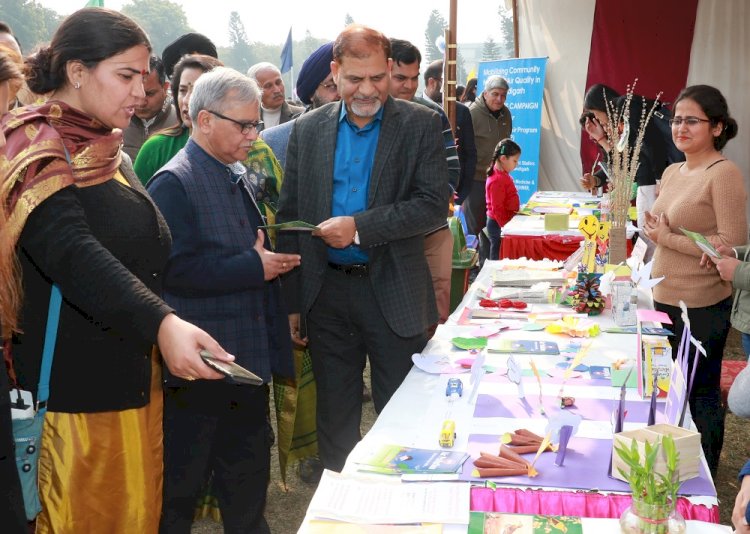 Chandigarh: The 11th Panjab University Rose Festival kicked off with much fanfare and enthusiasm which was inaugurated today by Prof. Raj Kumar, Vice Chancellor, Panjab University at Prof. R.C. Paul Rose Garden. 
Prof. Shankarji Jha, Dean of University Instruction, presided over the inauguration and Prof. R. K. Singla, Dean Research, and Prof. Karamjeet Singh, Registrar, were the Guests of Honour.
PU VC along with other officials visited the Prof. R.C. Paul Rose Garden , various stalls, Natural Biodiversity Exhibition, Art Exhibition – Golshan 2020, etc. and appreciated the beauty of the Garden. The Vice Chancellor admired the ambience of the garden and said that the Horticulture Division has put up a wonderful show. He further said that he has visited several such events but this festival is special in its own way, besides being an entertaining event, spreads the message of Environment Conservation and Cleanliness.
A variety of cultural programmes were presented by the students of Ankur School, Panjab University, Guru Gobind Singh Vidya Mandir, Ratwara Sahib & students of Panjab University. The audience enjoyed and applauded these performances.  
Flower Competition was also held today. About 500 participants put up their displays in the competition in 90 categories. The competition of Best Hostels of Panjab University was also held this year. Girls Hostel no. 4 bagged the 1st prize in Best Girls Hostel category and Boys Hostel no. 5 bagged the 1st prize in Best Boys Hostel Category.
School Band competition of various schools was also held today. 
Er. Anil Thakur, Divisional Engineer (Hort.) and Organiser of the festival in his vote of thanks thanked the Hon'ble Vice Chancellor, other P.U. Authorities and all stake holders of the festival and said that without their constant support and guidance, It was not possible to organise such a mega event. The Horticulture Division is always committed towards excellence in whatever it organizes and will strive to achieve better in future.
Prof. Emanual Nahar, Dean Student Welfare, Prof. Neena Caplash, Dean Student Welfare (W), Dr. Muneeshwar Joshi, Secretary to Vice Chancellor, Dr. Parvinder Singh, Controller of Examinations, Er. R.K. Rai, Executive Engineer-I, Mrs. Renuka B Salwan, Director, Public Relations, Dr. Parminder Duggal, Principal, Ankur School, Sh. Jatinder Moudgil, Manager Press, Dr. Tirthankar Bhattacharya, Chairperson, Deptt. of Art History & Visual Arts graced the occasion along with Senators, Wardens of Hostels and representatives of various Unions of Panjab University. The faculty, non-teaching employees, students and general public were present in large number. 
The visitors were seen enjoying the performances of Folk Artists, Nachhar, Stick Walkers etc., being provided by North Zone Cultural Centre. 
In the evening, Cultural Night was held at Old Convocation Ground at 7:00 pm. Winners of Best Hostel Award, Photography Competition and Flower Competition were also awarded in the evening.
On the second day of the festival, competitions of Singing, Rangoli, Collage Making, Slogan Writing and Face Painting will be organized. On third day, competitions of Rose Prince & Princess, Poetic Recitation, Dancing Competition, Mehandi, Painting Competition and Fancy Dress will be organized. Competition like Dancing, Singing, Rose Prince & Princess, Poetic Recitation, Fancy Dress & Painting have received a large no. of entries.