Youth Cong workers stage protest against price hike
Burn effigy of PM and BJP government in Jalandhar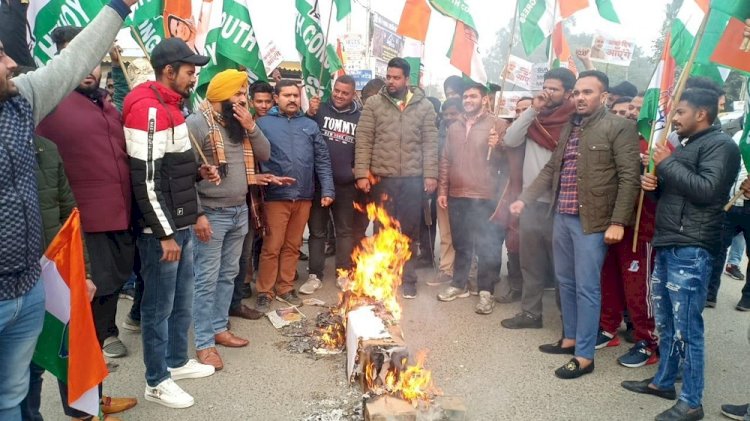 Jalandhar: Today Angad Dutta President Youth Congress Jalandhar, Bob Malhotra, General Secretary, Youth Congress Jalandhar along with the workers of youth congress Jalandhar burns the effigy of Prime Minister Narendra Modi and BJP Government and raised anti BJP slogans against the price hike of essentials commodities at Mota Singh Nagar Market, Jalandhar.
During the Protest Angad Dutta accused BJP Government of making false promises which has taken away the food plates from the poor and all essential items like vegetables, pulses, LPG cylinder have seen rise in its price and become unaffordable for the common man.
He said that the common man was bearing the escalating prices of all essential commodities. The Government has crossed every limit and failed to fulfil all the promises it made to the people of the India. Today, we have seen the uncontrolled rise in price of essential commodities and it is due to the wrong policies of the Government. The BJP and its leadership which used to protest against the price hike during UPA government regime are silent today.
Bob Malhotra said that Prime minister has broken the domestic budgets of countrymen into the pieces as it increases the burden on the common man. He claimed that the crude prices were around 150 US dollars during the regime of the United Progressive Alliance (UPA) but the price of the Petrol and Diesel were kept in control by the then government. But Now even the prices of crude are low, the Government is regularly increasing the price of petrol and diesel.
Those who were presents are Randeep Sandhu Lucky, President Jalandhar Cantt, Jaskaran Sohi Gen Sec Jalandhar Youth Congress, Charanpreet Singh Channi Gen. Sec. Youth Congress, Parveen Kumar President Jalandhar Central, Sunny Kumar President Jalandhar North, Bharat Bhushan Kaka Jairath Gen Sec Youth Congress, Ishu kalra, Ashish Thakur, Abhi Mukhija Pintu Kumar, Raja Gharu, Anil Kumar, and many others.