Youngest Spiritual Orator Jaya Kishori inspired LPU Students
Occasion was exclusive 'Live-Session' for many thousands of LPU Students from all Indian States & 50+ countries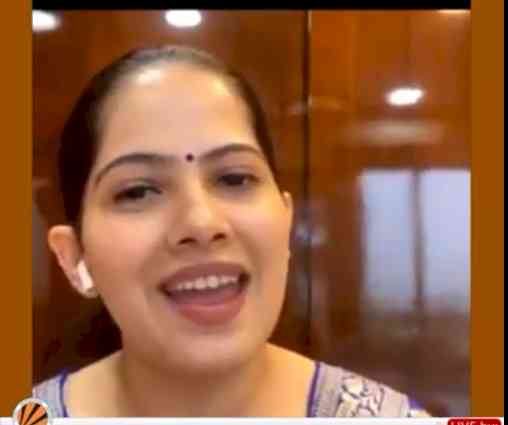 The youngest spiritual orator Jaya Kishori motivating LPU students and staff members virtually in an event being organised by Lovely Professional University'.
Jalandhar: Lovely Professional University (LPU) organized an exclusively inspiring 'LIVE- Session' for many thousands of its national and international students from across all Indian states and 50+ countries. This educational session on diverse phases of life was with Jaya Kishori- a world renowned youngest spiritual orator and motivational speaker. Seeing the aura of diverse learners at the university, she expressed her intent to be physically connected to the campus and students during normal time-period.
Jaya Kishori is an Indian spiritual orator, motivational speaker, religious leader, singer and musical artist. She has also lent her voice to more than 20 albums, and one of her programmes has been illustrated in the Guinness World Record.
Amid occasional chanting of soulful melodious hymns, she showered a volley of life-changing lessons upon students through several self-explanatory key-liners, in a small span of time. Importantly, pulsing the present harsh time, she advised all that the pandemic has drilled global society not to play with nature in any form. Keep the environment clean for the sake of self and all others.
Avid follower of Shrimad Bhagavad Gita, Swami Vivekananda and all others who influenced her in one or the other way, she suggested students to always have a balance in life. For consistency in life, do not stop, and proceed ahead by increasing your patience level. No patience, no consistency. Even illustrious men-women and angelic figures had to suffer for being inspiring symbols to others later on. In order to be something special in this very life, right type of company matters a lot. To seek patience, spend less time with fast going machines and more with human beings including parents, family members, and friends as they provide strength.
Living in an age of tough competitions, value and lay focus on your own self for every aspect. Do not compare or compete with others. Compete with yourself and analyse how much of improvement you have gained. Talking about religion and spirituality, she shared that all religions have common spiritualism of goodness to others. One should not seek self-interests. She also reminded students to use their creativity in leading the country to the fore-fronts. If a student is valued much on the foreign lands, it is only due to the education and nurturing of the country he/she lives in. Use your creativeness and experiences for the betterment of the country. Dean, Division of Student Welfare at LPU, Dr Sorabh Lakhanpal convened the session.