Young woman who donated kidney to save husband's life, felicitated at Kidney Care Centre
To promote kidney donation for transplant, a young woman kidney donor of 29 years of age was felicitated at Kidney Care Centre, sector 14 Panchkula on Friday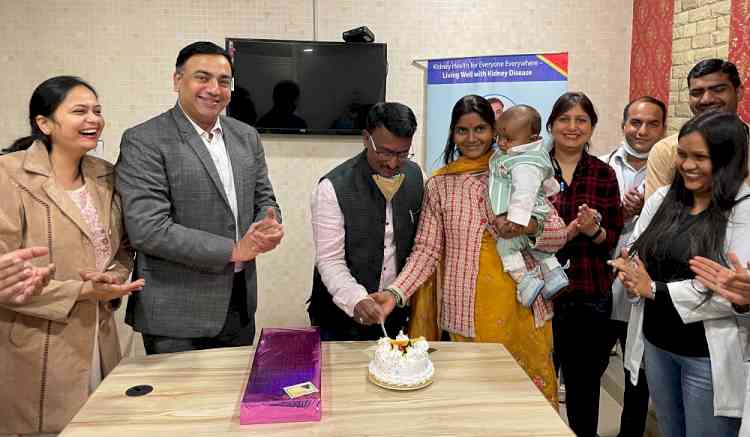 Panchkula, March 4, 2022: To promote kidney donation for transplant, a young woman kidney donor of 29 years of age was felicitated at Kidney Care Centre, sector 14 Panchkula on Friday.
Two years back she donated her kidney to save the life of her husband, Sunil Pandit who is in the construction business at Parwanoo. After 8 months of kidney donation, she conceived and around 6 months ago she gave birth to a healthy baby boy.
Giving information Dr Ajay Goyal, Director of Kidney Care Centre and a renowned nephrologist and kidney transplant physician in the region said that Sunil was suffering from kidney failure and was undergoing dialysis twice a week.
He was in a very bad state of health and also suffered from a TB infection. After proper counseling, he decided to undergo a kidney transplant and his wife readily agreed to donate her kidney to husband, said Dr Ajay.
The family had some initial concerns regarding the donor's health in future and a possibility of failing to have a healthy pregnancy after kidney donation. However, after proper guidance from the Kidney Care Centre team they went ahead with kidney transplant surgery under guidance of Dr. Ajay. After kidney transplant the patient's health improved and now he's living a normal life including his job and daily activities.
The Kidney Care Centre team decided to facilitate the family and give blessings to their bundle of joy and at the same time thought to give this message to the public that kidney donation is absolutely safe and is absolutely safe and can transform lives of many families, asserted Dr. Ajay.