YAD and SOI holds unique demonstrations across Punjab to protest against illegal and unconstitutional appointments of sons of Congress MLAs
Will ensure injustice is not done to youth seeking jobs since last four and a half years: Parmbans Singh Romana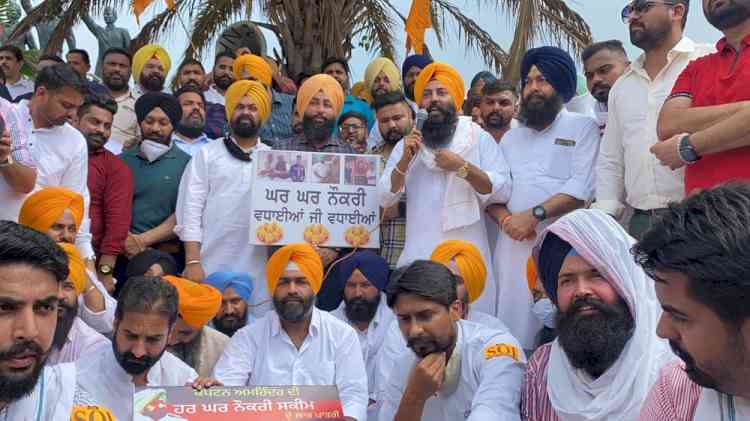 Ludhiana: Youth Akali Dal and Student Organisation of India today jointly held unique demonstrations across Punjab to protest against illegal and unconstitutional appointments of sons of Congress legislators Fateh Jung Bajwa and Rakesh Pandey by Cabinet yesterday and announced that it will ensure that injustice is not done with lakhs of youths who were seeking jobs from Congress government since last four and a half years.
During demonstrations YAD and SOI activists distributed laddus to people and said that they were  protesting in this unique way to ensure that   Congress government awakes from deep slumber.
Addressing media after the demonstrations, YAD President Parmbans Singh Romana said that it is shameful to see that Amarinder Singh government has betrayed and backstabbed youth of Punjab on fulfilling promise of ghar ghar naukri and instead has turned it to apne ghar naukri and was giving jobs illegally and unconstitutionally on compassionate ground to sons of its MLAs.
Romana said that this is first of its kind incidence in country where a sitting chief minister was bribing its MLAs in this way with a sole motive to save its chair. He said that this act of corruption has been approved by his cabinet and gave it a legal validity which is a crime infact a sin.
He said that this action of the government has rubbed wounds of lakhs of youth who were demanding jobs from the Congress government after believing words of Capt. Amarinder Singh who took pious oath of  Gutka Sahib at  Talwandi  Sabo to fulfill all  his promises. He said that now thousands of contractual employees were seeking regularization of their services and lakhs of youth are staging dharnas seeking jobs as per promise of CM.
The YAD leader said that it is most unfortunate that apart from ignoring unemployed TET teachers and others, this government has completely failed to keep its promise of providing jobs to families of farmers who have committed suicide. He said that till date more than 2000 farmers have committee suicide in state during last four and a half years when government failed to waive of loans of farmers but government has not provided job to any single family. He said that families of more than 500 farmers martyred at Delhi borders were also looking for government help in vain and nobody visited their homes with offer letters of jobs.
He said that this inhuman government has even refused to hear the protesters though during time of Badal government Chief Minister or Deputy Chief Minister use to meet leaders of protesters to solve their problems.
On the occasion, SOI President Robin Brar, Bhim Waraich, Prabhjot Singh Dhaliwal, Simarnjit Singh Dhillon, Manpreet Singh Manna and other leaders were also present.