World Kidney Day observed in Medical OPD Block of DMCH
People with kidney diseases should strictly take medication and preventive measures suggested by qualified and competent nephrologists: Principal Dr Sandeep Puri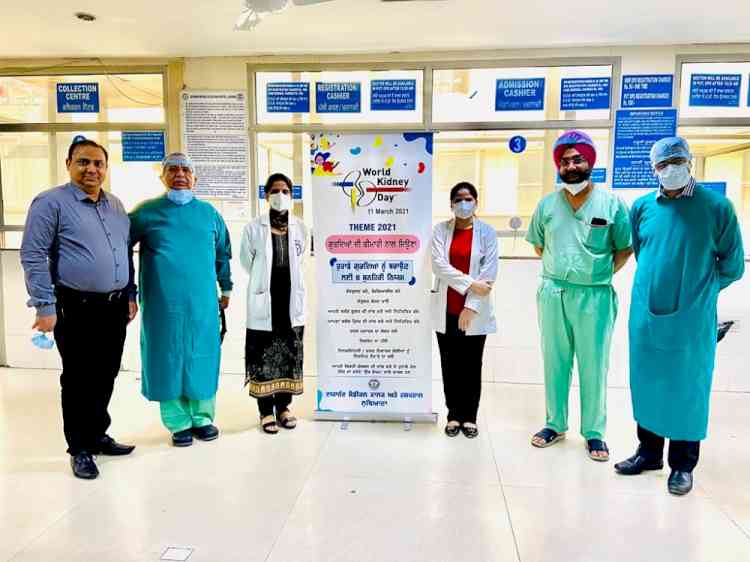 Ludhiana: 'World Kidney Day' was observed today in Medical OPD Block of DMCH by a team of nephrologists and urologists. The day was observed to make people aware in keeping their kidneys healthy and various preventive measures were suggested to be adopted by people with kidney disease.
Secretary Prem Kumar Gupta lauded the efforts of the department of Nephrology, Urology and Kidney Transplant and said that DMCH, as an institution has always been active in creating awareness lectures for the public on important Health Days.
Medical Superintendent Dr Sandeep Sharma said that the theme for 'World Kidney Day' this year is 'Living well with Kidney disease'. Kidney disease can affect people of all ages and races and  10% of the population worldwide is affected by CKD and progression of the disease can be slow down if it is detected at early yearsaid Dr Sharma.
Dr Vikas Makkar (Professor & Head of Nephrology) elaborated  EIGHT golden rules to protect the kidneys, which include:- Remaining physical fit, eat a healthy diet, check and control your blood sugar and blood pressure levels, take adequate liquid intake, Avoid smoking, Not taking over the counter pain-killer pills regularly and Getting kidney function checked if you observe any high risk factor .
Principal Dr Sandeep Puri said that people with kidney diseases should strictly take medication and preventive measures suggested by qualified and competent nephrologists. He further said that CKD (Chronic Kidney Disease) should not be considered as a life term sentence, patients can lead a healthy and active life with the disease.