World Health Day celebrated at  UIFT& VD
"Healthy Eating- A Way Towards Complete Wellbeing"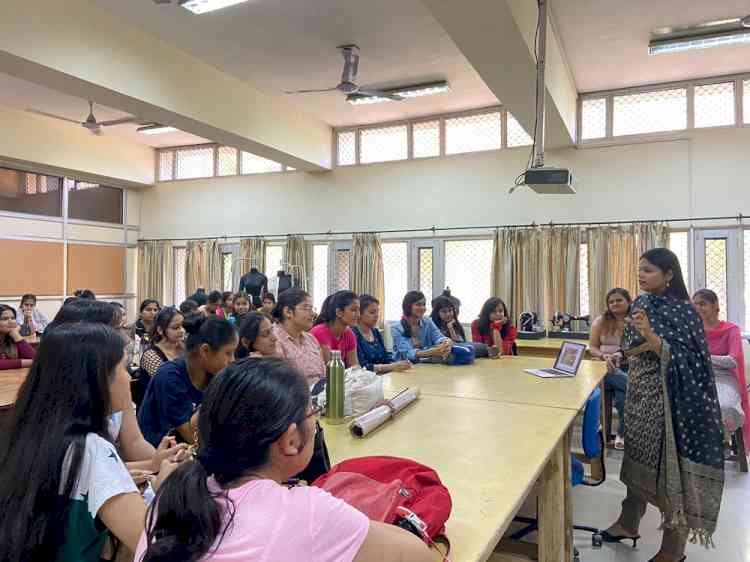 Chandigarh, April 8, 2022: UIFT&VD, Panjab University, Chandigarh organized a seminar on Healthy Eating- A Way Towards Complete Wellbeing.The resource person for the event was Ms. Bharti Goel, a nutritionist, Faculty-cum-Founder of Omnicademy, organizer of various seminars, workshops, yoga camps and a regular speaker at various forums about health, yoga and Nutrition.Dr. Anu H. Gupta, Chairperson, UIFT & VD stated that in order to do successfully in life, one must eat healthy foods at the appropriate times and youth should be well versed with healthy lifestyle.
Ms. Bharati elaborated that when it comes to eating, people have acquired habits. Some are healthy (for example, eating fruit for dessert), but many are not (having sweet drink after work). She believes that changing one's eating habits is never too late, even if one has been doing so for years. She advised eating fruits as a mid-meal snack, eating a large breakfast, drinking plenty of water, and replacing sugary drinks with lemon water in the heat. Making fast, significant changes, such as eating solely tomato soup, can result in short-term weight loss. Such abrupt changes, however, are neither healthy nor intelligent, and they are unlikely to succeed in the long run.Ms. Goel also provided the attendees with a variety of seeds that are helpful to the body. Flax seeds are high in omega-3 fatty acids, which help to lower cholesterol. Quinoa, pumpkin, and sunflower seeds are high in omega-3 fatty acids, which help to prevent cancer. The speaker suggested to have one different millet once a day, after soaking. She  gave several crucial Diet suggestions, such as not skipping breakfast, consume at least 30g of nuts every day, increase the diversity in your diet by including fruits and pulses, cook your food in mustard oil or Desi ghee, avoid Dalda ghee and refined oil as they are bad for health, drink at least one glass of milk, get the first ray of sunlight as it is the best source of sunlight, drink a glass of water first thing in the morning, and avoid having coffee or tea with your food as they contain caffeine.
She talked about her belief of 'DHOL', where D stands for Diabetes, H is for Hypertension, O for Obesity and L stands for High Cholesterol. She commented that when DHOL starts playing, there's only one thing one should do- BHANGRA i.e.,Behaviour change, Happiness, Active lifestyle. She laid stress on following regular exercise routine. The participants asked questions about diet in the case of excessive cholesterol, hormone imbalance, and so on, which were thoroughly discussed and answered with diet suggestions.The lecture was organized by Dr. Anu H. Gupta, Chairperson, and Ms. Ginni Singh, Research scholar, UIFT & VD.