World Bank Team visits Ludhiana
Read details in this news report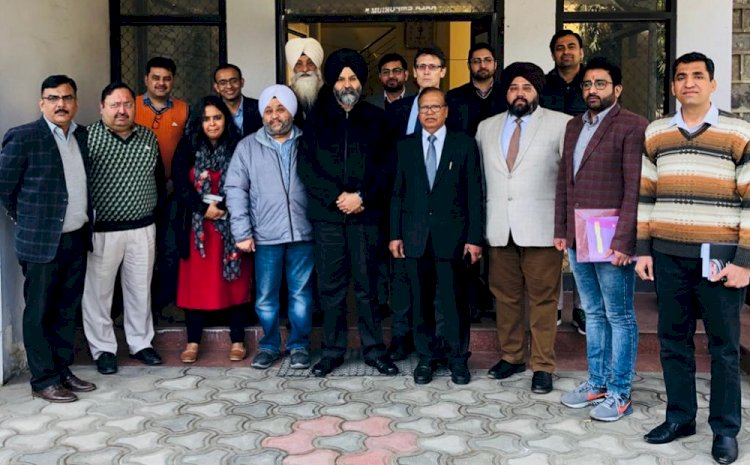 Ludhiana: Federation of Industrial & Commercial Organization (FICO) participated in World Bank Group program to support the Government of India on Raising Productivity and Competitiveness of MSMEs in India, with an outlay of 3600 Crores Rupees. World Bank Representatives Mr. Peter J. Mousley (Financial Sector Specialist) South Asia Region along with Mr. Adarsh Kumar (Sr. Strategy Officer) India & Ms. Ruchita Manghnani (Economist) India were the Guests of Honour & Key Note Speakers on the occasion.
World Bank is now undertaking the second mission on the program during which the global team of experts undertook meetings with the Ministry Officials, the Stakeholders etc. and primarily focused on (1) Strengthening the governance of the MSME institutions and program to address the institutional capacity & coordination constraints. (2) Support to Market Access, Firm Capability and Access to Finance through Streaming of schemes and strengthening of existing scheme outreach.
FICO participated in the event and shared its inputs on how we can boost the MSME sector of Punjab & India.
S. Gurmeet Singh Kular President FICO said, India is the second largest manufacturer of bicycle & parts in the world, thanks to the MSMEs Industry of Ludhiana, , but the GAP between First and Second is huge, to cover that India would not only need latest technologies in manufacturing but also high end raw materials like titanium alloys, carbon alloys are not available in India.
S. Ashpreet Singh Sahni Head Agriculture Division FICO said that platform for the technology transfer is not available in India, and to meet the global standards, India needs the global technology in manufacturing sector.
S. Gurvinder Singh Sachdeva Head Trade Division FICO said Trade sector should also be facilitated by the government, just like the MSME sector, the percentage of the support may vary, but there needs to be a governmental support for traders also.
S. Gurmukh Singh Rupal Head Sewing Machine Division FICO said global textile industry works on ZUKI Machines, and In India we are still manufacturing traditional sewing machines, as we do not have the technology to manufacture machines to compete the levels of ZUKI.
Shri Mahesh Khanna GM DIC Ludhiana said at least two new R&D centers for the industry needs to be established in Ludhiana, as the previous R&D centers are very old and using traditional technologies.
Amongst Present were Shri Mahesh Khanna Gm District Industries Center Ludhiana, Shri Deepak Chechi, Shri Kundan Lal, Shri Rajesh Kumar Assistant Directors MSME-DI Ludhiana, Shri Ashpreet Sahni Head Agriculture Division FICO, Shri Gurvinder Singh Sachdeva Head Trade Division FICO, Shri Gurmukh Singh Rupal Head Sewing Machine Division FICO. /(Feb 13)