Workshop on SAXS and AFM organized in CIL, PU
It focused on two advanced analytical techniques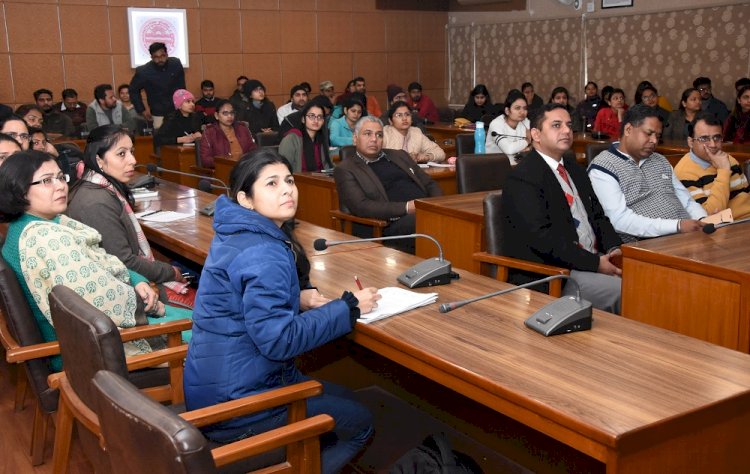 Chandigarh: The Department of CIL/SAIF, Panjab University, Chandigarh organized a workshop on  Small Angle X-ray Scattering (SAXS) and  Atomic Force Microscope (AFM), here today which was presided over by Prof. Shankarji Jha, Dean University Instructions, Panjab University, who said that the scientists are God's favorite people. 
Prof. Ganga Ram Chaudhary, Director urged on making the Central Instrumentation facilities(CIL) the best in the country by making it more user friendly and also informed regarding reduction in NMR analysis charges for the students of PU. 
Dr. Anil Sharma, convener emphasised on the importance of such workshop where participants get hands on training on sophisticated high-end instruments.    
The workshop focused on two advanced analytical techniques of SAXS and AFM.  The role of Application experts Ms.Kanika and Dr. Dharmesh from Anton Paar Pvt Ltd was highly instrumental in the dissemination of simple ideas on which these new disciplines are based. 

Ms Kanika  demonstrated that SAXS is a very powerful analytical nondestructive tool to have insight regarding particle size, shape, crystalline nature, porosity, internal structure etc. for advance materials as well as biological samples.     
Dr. Dharmesh explained that how the  AFM can  be helpful in  visualization and measurement of  nanostructures and even structures at the atomic levels in the field of material sciences, life sciences, engineering and numerous other fields. 
The Material and Biological Science researchers attended the workshop.