Workshop on Food Adulteration held in Doaba College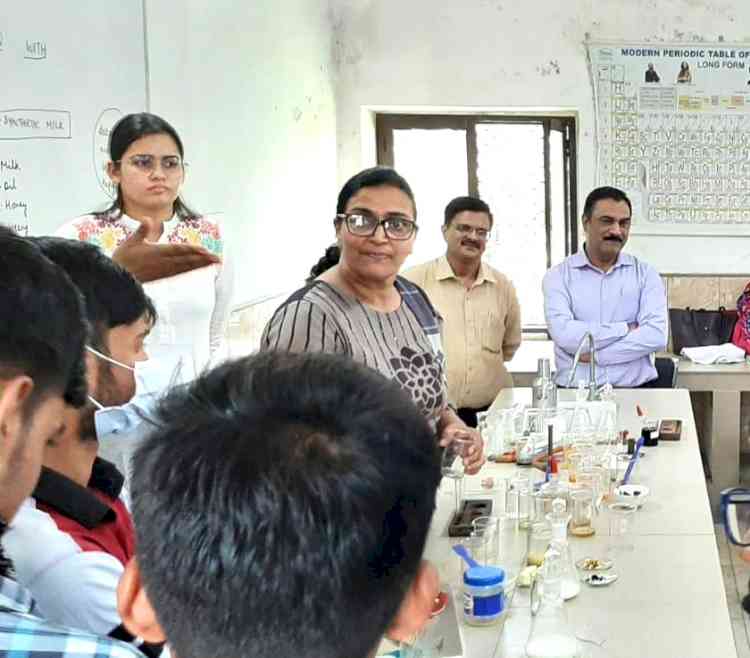 Jalandhar, October 21, 2021: A workshop on Food Adulteration was organized by the PG Department of Chemistry for 10+2 students. Students of 10+2 class participated in the workshop.  Prof Paramjit Kuar acted as resource person on the occasion. She was accorded a hearty  welcome by Principal Dr. Pardeep Bhandari , Prof. K K Yadav-Head ,Faculty and students . Principal Dr. Pardeep Bhandari said that doos items have posed a big challenege to all of us in current scenario of adulteration as it not only poses great threat to our health but also our pocket. Unfortunately the chemicals used in adulteration cause grave danger to health. He said there is only one solution of timely awareness to eradicate this acute problem. It is with this sole motive that such a workshop is being organized in college and college is going to provide Adulteration Detection kit to its students so that they can detect adulteration in food products at their homes in a scientific manner.
Prof. Paramjit Kaur demonstrated rapid tests for the detection of food adulterants in natural food products such as milk, cheese, ghee, honey, black pepper, red chilli powder, turmeric, asafoetida, pulses etc. The students actively participated in the workshop by performing the tests.