Workshop for Principals, heads of schools in Hyderabad
Cambridge Assessment English and Ebek Language Laboratories Private Limited organized the event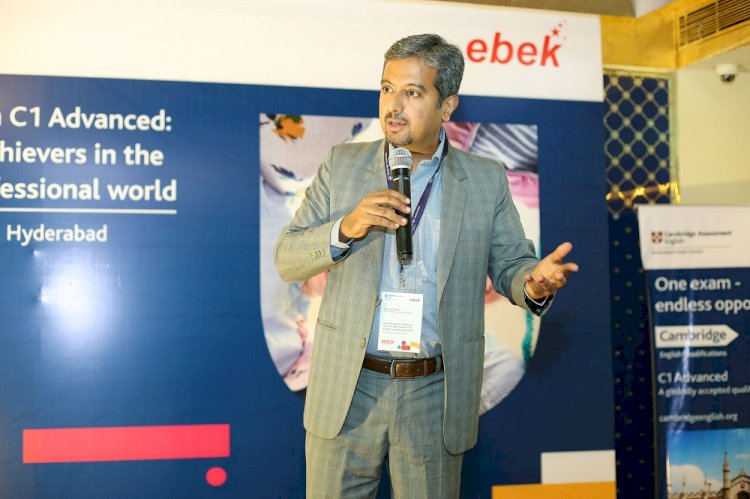 Hyderabad: Cambridge Assessment English, a department of the University of Cambridge, UK organized a workshop on "Cambridge English C1 Advanced: English for high achievers in the academic and professional world" along with Ebek Language Laboratories Private Limited at The Golkonda Hotel, Banjara Hills, Hyderabad on 28th February, 2020. 
The workshop discussed the various opportunities for Indian students for their higher studies in abroad.  Also Cambridge English officials emphasised the importance of language skills of students required for job opportunities globally.
Cambridge English C1 Advanced is a high quality, international English qualification that the students can use for their university and student visa application. C1 Advanced is accepted by more than 8,000 organisations globally including higher education institutions. 
Mr. T.K. Arunachalam, Regional Director - South Asia, Cambridge Assessment English said "Studying abroad is one of the devoted dreams for many Indian students. Cambridge English exams are helping them to attain their ambition. By conducting such workshops, we are creating awareness of the endless academic opportunities for our students in foreign countries".     
The workshop witnessed more than 40 Principals & Heads of Schools from across the city. The participants felt that they gained more relevant information through this workshop which will help their students to study abroad. 
Mr. Sreekanthan G, CMD, Ebek Language Laboratories Private Limited said," Ebek is a reputed English language solution provider and has been an authorised exam centre for Cambridge English exams for many years now. We are trying to highlight the advantages of taking Cambridge C1 Advanced(CAE) to the aspirants going abroad for higher studies. We will be giving an extensive academic and technical support to the educational institutions and overseas consultants. We are launching my ebek - Registration portal for this. Our mission is to give an enriched test-day experience to all our candidates."
Cambridge English exams can open up a world of study, work or travel opportunities. These high-quality international exams are designed to develop practical English language communication skills for career and study success and extensively researched by one of the world's largest dedicated language research teams.
These exams open doors to higher education, improve employment opportunities, and increase options for study or work for students. With a Cambridge English Certificate, the student will be able to prove his/her English language skills to universities, employers and governments around the world.