Workshop cum demonstration on skill development and sustainable draping techniques at Home Science College
More than 150 students including faculty members attended the workshop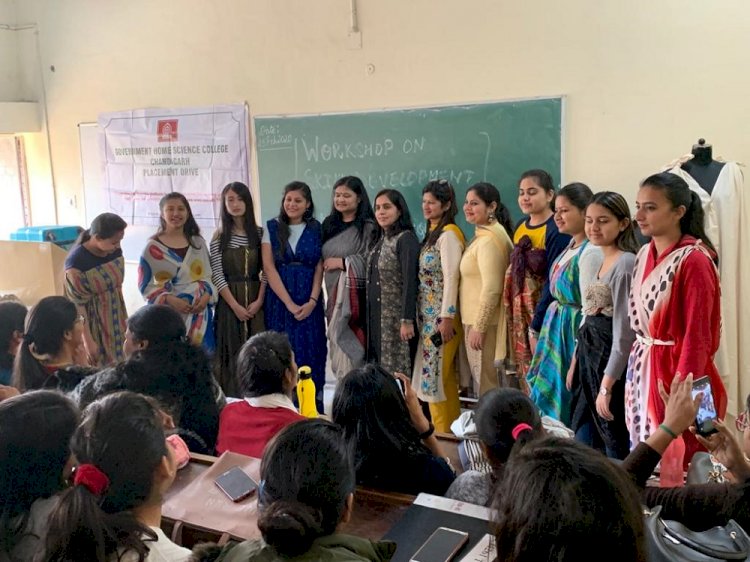 Chandigarh: As a placement and skill development initiative, Government Home Science College organized a workshop on Skill Development and Sustainable Draping Techniques that aimed to enhance creativity amongst students and train them to create fashion through zero- waste approach. 
The workshop cum demonstration focused on reusing waste cloth material for creating newer designs and reinventing fashion. More than 150 students including faculty members attended the workshop.
Ms. Jharna Joshi, Associate Professor, University of Petroleum and Energy studies, Dehradun was the resource person for the workshop. During the workshop, she elaborated the importance of sustainable fashion and emphasized on sustainable use of fashion products and the fashion system towards greater ecological integrity. Students were demonstrated and equipped with knowledge about the ethical consumption of fashion products and its various environmental impacts. She demonstrated a number of sustainable draping techniques from reused sarees on the mannequins showcasing gorgeous and luxury eco-styles.
At the end of the workshop, students were able to correlate the session with what inspires them the most as a fashion identity.
Principal of the college, Prof. Sudha Katyal, motivated the students for their active participation in workshops promoting green and sustainable fashion. She further sensitized the students about the importance of dynamic overview and unique opportunities in the field of designing.