Work on installing 128 kw solar net metering system starts at govt college for girls
25 govt schools and two govt colleges in city to have solar power: Bharat Bhushan Ashu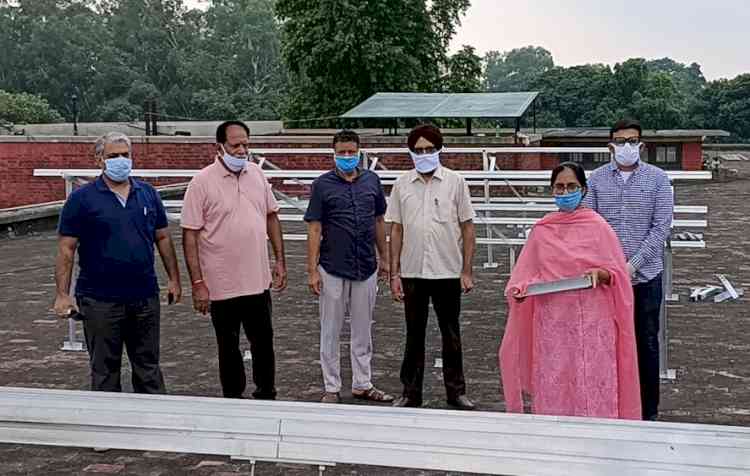 Ludhiana: In a bid to save our environment and generate green energy, the work to install 128 KW solar net metering system has started at Government College for Girls campus, here. Punjab Food, Civil Supplies & Consumer Affairs Minister Mr Bharat Bhushan Ashu had earlier announced that solar panels would be installed in 25 government schools and two government colleges under the Ludhiana Smart City project. 

He had said that on the completion of this project, these schools and colleges would be fully powered using solar energy, that would not only lead to saving money, but would also contribute in saving our environment by producing green energy.
Accompanied by MC Councillor Mrs Mamta Ashu, Mayor Mr Balkar Singh Sandhu today visited the GCG, here, and inspected the start of work.

Mayor Mr Sandhu informed that the work on installing 128 KW solar net metering system at GCG have started today and would be completed shortly. He said that besides this, the work has already been completed at Government Schools at Barewal, Haibowal, Jawahar Nagar and PAU. He further informed that these solar panels would have a life of 25 years and the installation cost would be recovered in 5 years time.

Mrs Mamta Ashu informed that the total cost of this project is around Rs 4.3 crore and 803 KW of green energy would be produced when this project is completed. He stated that when this project is completed, 10.50 lakh electricity units would be produced each year, that would help in saving around Rs 70 lakh per year, which the schools and colleges earlier paid as electricity charges.

PEDA District Manager Mr Anupam Nanda informed that the setup of solar net metering has been installed by Punjab Energy Development Agency (PEDA) and they also imparted the technical know how about it.

Principal Mr Paramjit Singh Grewal, Vice Principal Dr Rakesh Kumar and all the staff members were also present on the occasion.