Women cardiac care conference concludes in Ludhiana
Witnesses various elaborative guest lectures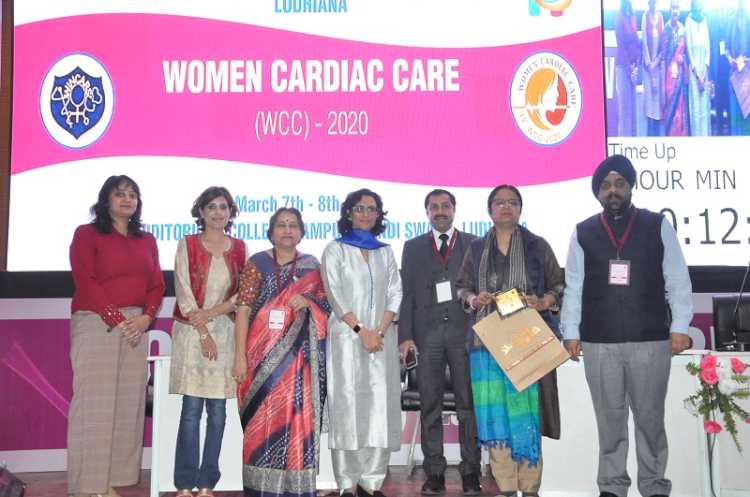 Ludhiana: The second and concluding day of the Women Cardiac Care (WCC) Conference organized by Hero DMC Heart Institute in collaboration with Women in Cardiology and related sciences (WINCARS) today saw various elaborative guest lectures conducted by distinguished female cardiologists from different parts of the country.
The day today began with 'Panel Discussion' on 'Pregnancy and Heart Diseases' with number of panelists from the specialties of Cardiology and Gynaecology.
Determining risk in the pregnancy of a woman with CHD is totally specific to the type of defect. It depends on how well the heart is working and how much damage you have. Most women with congenital heart disease (CHD) can have a successful pregnancy and requires lot of careful planning and management, said the panelists.
Dr Monika Singla from DMCH Ludhiana and Dr Astha Kapila from Chandigarh spoke on 'Relation of migraine to Heart Disease'.
A symposium on 'Diabetes, Hypertension and Cardio Metabolic' was also held with lectures by Dr Shilpi Mohan from Hyderabad, Dr Akshita Desai from Jalandhar, Dr Nidhi Bhimsen from Delhi and Dr Sujatha from Vishakapatnam.
Besides guest lectures, case presentations on 'Endovascular, Peripheral and Clinical Cardiology' were showed by female cardiologists from New Delhi, Hyderabad and Ludhiana.
Like most of the working women, if you are probably too busy with your family and office work, you need to take care of your own wellbeing and health. Having a healthy heart should be a priority for every woman.
It was advised that women can help keeping their heart safe by adopting healthy lifestyle habits, which include exercising, eating right, getting enough rest, and paying attention to your health in general.
The conference got concluded with an impressive Valedictory function with Organizing Secretary- Dr Shibba Takkar Chabbra Co-organzing Secretary Dr Mohanjit Kaur proposing a vote of thanks to all the adistinguished guest speakers and the delegates.