With tons of employment opportunities, livelihood mission transforming lives of rural women
20240 women join 2024 self-help groups during last year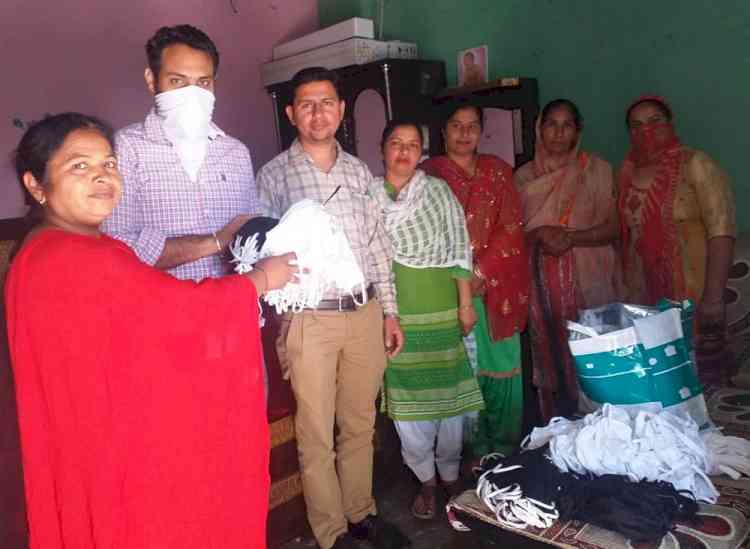 Ferozepur: With an ample amount of self-employment opportunities, Punjab State Rural Livelihood Mission is transforming the lives of rural women as a large number of beneficiaries have successfully started their own business in Ferozepur district.
 

Divulging the details, Additional Deputy Commissioner (Development) Ravinderpal Singh Sandhu said that the mission was catalyzing in achieving the goal of women empowerment in the district. The ADC said that the scheme aims at alleviating poverty and distress among rural folk by making them self-reliant in terms of employment. During last year 20240 rural women have joined 2024 self-help groups, he added.
 

He further added that the unemployed rural women are first associated with the self-help groups. Afterward, they are introduced to banks for loan purposes as the department has roped-in various public sector banks. However, the department provides financial assistance to each self-help group in two categories comprising financial aid of worth Rs. 15,000 under revolving funds, and Rs. 50,000 under community investment funds category so that groups can start their business, said the ADC.

Disclosing more, the ADC said that during last year, financial assistance of Rs. 2,36,25,000 has been provided to 1575 self-help groups (Rs.15,000 to each group) as revolving funds and Rs. 3,57,50,000 to 715 self-help groups (Rs. 50,000 to each group) as community investment funds to start their business. Thus, a total financial help of worth Rs. 5,93,75,000 has been provided to budding entrepreneurs during the last financial year, he added.
 

Pointing out further, the District Development and Panchayat Officer Harjinder Singh said that apart from making self-help groups and availing bank loans to them, the department has arranged for skill development programs. He said that the skill training imparted according to beneficiaries' interests.
 

He said that a large number of rural women had expressed their interest in farming. Hence the training of organic farming, producing organic manure, and pesticides were imparted to them. The DDPO said that these women sell organic crops in their villages and earn a livelihood. Similarly, others were witnessing huge success in tailoring, stitching, and embroidery trades as recently a large number of self-help groups have received orders from various institutions to produce face masks in bulk quantity, said Harjinder Singh.
 

The DDPO said that these beneficiaries during group discussion share their business knowledge and skills with other group members so that they can cope up with the hurdles in their career. He said that these women were not only shaping their careers but also supporting the families with their income. These women were also actively participating in various government programs like Sakhi, Krishi Sakhi, Active Women, Nodal CRP, and many others, the DDPO concluded.