"With this show, we are bringing all Sony SAB actors together"
Says Anusha Mishra talking about Sony SAB's new show 'Kuch Smiles Ho Jayein…with Alia'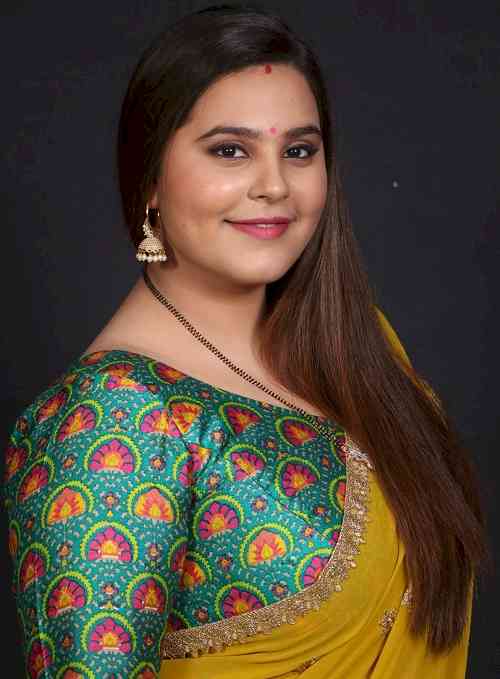 Anusha Mishra.
•        Alia now turns host for Kuch Smiles Ho Jayein…With Alia. How does that feel?
I was pleasantly surprised when they told me that I have to do this. My reaction was exactly like "What? Me? Why? How? When?" I think all of it was decided in a very short span of time. I was also told that I am not going to be alone and I'll have Balraj Syal as my co-host. I was really happy on knowing that because he is an amazing comedian and I have been seeing him on TV for so long. So, I am very excited for this project.
•        Does hosting come to you naturally?
During my college days, I have hosted a lot of events from college fests to different cultural events. Anchoring was one of the many things I used to do and I was pretty good at it,so Kuch Smiles Ho Jayein… with Alia is actually a Television extension of that I guess.
•        You have been shooting at home for this show. How is that experience?
It was a little troublesome in the beginning because our homes are not designed to shoot, they are meant for living. However, all thanks to my mom every room in our house is very beautiful and it eventually looks pretty on the camera. It was also difficult to shoot because my mother was the DOP and she had to handle the phone and shoot it. So, I shot for around 5-6 hours the first day for the promo and it had to be extended to the next day as well because there were daylight issues. Later they sent me a tripod and then I could shoot on my own. Overall, it was fun but very exhausting because we are doing the work of all the departments on your own.
•        Did you explore any techniques of shooting/ dubbing at home?
I realized my books have two purposes- one is, to read them and the second is, they are a good camera stand. Until they had sent a tripod for me, I used my books as a stand for my mobile.
•        Your mother is an experience television actor. However, this situation must be new for her as well. How did she help you shooting for the show at home?
Even while shooting on the sets, I face this issue, I tend to move a lot during a scene, doesn't matter if I have the camera on me or I am in the frame, so to keep me steady was a big task for my mom. She also played a huge role in keeping up the energy because I had to take so many takes to make the shot perfect and I was also sweating as we couldn't keep the AC on or it would disturb the sound. So, to manage that and me, my mom did a fantastic job.
•        What can the viewers expect from the show?
We are in the middle of a lockdown and the world is a very gloomy place right now. Sony SAB audience has been missing their favourite characters right now and they have not been able to watch new episodes. Kuch Smiles Ho Jayein… With Alia is an attempt to bring something new for the audience. With this show, we are bringing all Sony SAB actors together, to bring a lot of happiness and 'Smiles' for the audience.
•        This is your second show on Sony SAB. How is that feeling?
Firstly, I am extremely thrilled. There are so many amazing shows running on Sony SAB right now along with the iconic show Office Office and I have two of my shows simultaneously running on the channel, it is very overwhelming for me. To be considered for a concept this new, is very exciting and I am very thankful for that.
•        While you have brought this show for the entertainment of your audience amidst the lockdown, how are you spending your lockdown?
Honestly, I have been sleeping a lot these days. I am someone who doesn't get enough sleep regularly, I have a disturbed sleep. So, I am sleeping long hours these days. Apart from that, I am trying to eat healthy and reading a lot as I love reading. I have also been watching a lot of movies lately and more of comedy films and shows as a practice for Kuch Smiles Ho Jayein…with Alia. I am noticing the little nuances and reactions. Lastly, I am also learning Spanish.
•        Any message for the viewers?
I hope everyone is safe and at home. I know these are some difficult times for everyone but I hope with Kuch Smiles Ho Jayein…With Alia, we can bring at least 15 minutes of happiness for the audiences. So, please stay home and enjoy this something new that we are bringing for you.