With support of Radha Soami Satsang Beas, 220-bedded level-1 and level-2 covid care facilities set up in Ludhiana
2 Facilities inaugurated by MP Ravneet Singh Bittu, MLA Sanjay Talwar, MC Councillor Mamta Ashu and Deputy Commissioner today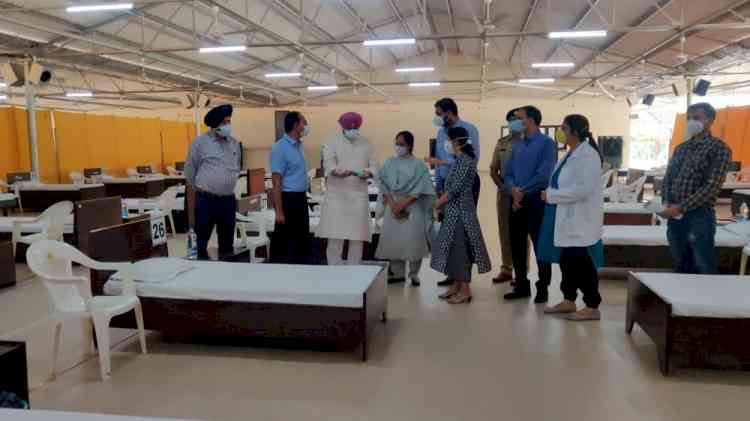 Ludhiana: With the active support of Radha Soami Satsang Beas, 220-bedded Covid Care facilities with level-1 & level-2 beds have been inaugurated in the city today. These facilities were inaugurated by Ludhiana MP Ravneet Singh Bittu, MLA Sanjay Talwar, MC Councillor Mamta Ashu and Deputy Commissioner Varinder Kumar Sharma at Hambran Road and Mundian areas of the city today.
    While speaking to media persons at the Covid Care centre on Hambran Road, here, MP Ravneet Singh Bittu said that each facility is 110-bedded (55 beds each for men and women). He thanked the Radha Soami Satsang Beas for supporting the Punjab government and District Administration Ludhiana for the start of these covid care facilities.
    He said that to augment the health infrastructure in Ludhiana, that has been witnessing a spurt in Covid infections, these covid care facilities would prove very beneficial for the level-1 and level-2 patients. He said that all the beds in these facilities would have oxygen supply.
    Mamta Ashu specially thanked Radha Soami Satsang Beas for always supporting the district administration in the fight against Covid 19. She said that even last year also, they had supported the district administration by providing shelter and langar for the needy in the state.
    While speaking to media persons at the Covid care centre adjoining Fortis Hospital at Mundian, here, MLA Sanjay Talwar said that these centres have been set up to combat the devastating second wave of pandemic effectively. He said that these facilities are an ideal place for starting Covid care Centre and would have oxygen beds for Level-I and level-II patients. The Oxygen supply would also be ensured for the treatment here, he added.
    Deputy Commissioner Varinder Kumar Sharma said that there is no shortage of  oxygen or beds with oxygen supply in the district. He urged the residents to get themselves tested in case they have any flu like or covid symptoms. He also thanked the Ludhiana industry as 835 cylinders have been surrendered by them to the administration in the last 10 days to fight the contagion effectively.
    Prominent among those present on the occasion included Senior Congress leader Satwinder Kaur Bitti, ADC (D) Sandeep Kumar, Joint CP J Elanchezhian, ADC (General) Amarjit Bains, Civil Surgeon Dr Kiran Ahluwalia Gill, besides several others.