Winter requires extra care of your heart: Expert
Says, vaccination against influenza and pneumonia is recommended in elderly patients with heart disease to prevent chest infections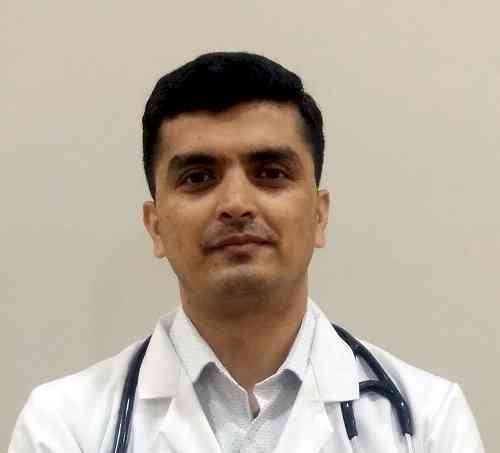 Dr Munish Dev.
Chandigarh: "Whenever we are in a cold environment, our body makes certain adjustments in order to maintain our body temperature. These changes include; increase in heart rate, increase in blood pressure and increased risk of blood clotting. These changes can lead to more stress on the heart in patients with pre-existing heart disease, leading to increased frequency of angina/ chest pain and heart attack and worsening of symptoms of heart failure."
While stating this on Saturday, Dr Munish Dev , cardiologist at Ivy Hospital, Mohali said that during winter we prefer to stay indoors leading to decrease in physical activity, which further increases the risk of cardiac events. Also people have a tendency to indulge in food items high in trans-fat, sugar and salt, which increases risk of diabetes, hypertension, heart disease and obesity.
During winters, there is increased risk of various chest infections like common flu and pneumonia. These infections tend to worsen the symptoms of heart disease. In the current scenario, cases of Covid-19 infection are on rise and can cause cardiac complications in heart patients.
Talking about the precautions, Dr Munish said that limit the time you spend out in the cold weather. Wearing clothes in multiple thin layers is better than a single layer. Regular exercise is a great way of keeping the body and heart healthy. Don't exert yourself too much in outdoor activities.
Don't let yourself become overheated. Dressing warmly when engaging in physical activity can lead to overheating. Overheating, causes blood vessels to suddenly dilate which can lead to sudden fall in blood pressure which can be hazardous in a person with heart disease.
Eat healthy and avoid overindulgence in food. Don't drink excess alcohol especially before going outdoors as it dilates blood vessels in the skin, making you feel warmer while actually drawing heat away from your vital organs.
Sun exposure is important for vitamin D formation. Monitor your blood pressure, blood sugar and cholesterol levels regularly. Vaccination against influenza and pneumonia is recommended in elderly patients with heart disease to prevent these chest infections, maintained Dr Munish.