Wide scale Covid testing held to prevent spread of Covid pandemics further
Till date, more than 8000 rapid antigen tests have been done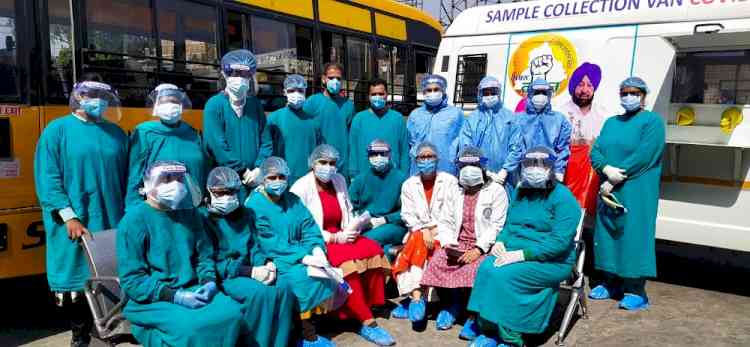 Faculty and staff of Community Medicine.
Ludhiana: Ever since, COVID pandemic has started taken its toll on the people of Punjab, Department of Community Medicine, DMCH was enrolled by State Government under its 'Mission Fateh' to undertake COVID testing on wide scale and coordinate with government and other agencies to slow down the growth of spreading COVID pandemic further, says Dr Anurag Chaudhary (Professor & Head of Community Medicine, DMCH).
 
According to Dr Anurag Chaudhary, faculty, residents  and staff members of Department of Community Medicine has been regularly visiting places of high risk areas (including factories and establishments) since 26th August, 2020and till now, reported a large number of 237positive cases from various locations of the city.
 
It was found that during initial days in the first and second week of September, daily count of COVID positives detected by testing used to be around in 'double figures'. The number started declining gradually by third and fourth week of September.
 
Till date, more than 8000 rapid antigen tests have been done by the team and still continue to do further testing.
 
Observing the steady decline trend in number of positive COVID cases in Ludhiana district in month of October. 'Mission Fateh' of State Government is gaining its strength due to various efforts directed towards control of COVID pandemic in Ludhiana.
 
With this new development, the pace of testing activity has increased at a fast pace. Initially, approximately 200 to 300 factory workers were tested daily and those tested positive were counselled regarding isolation be at home or level 1 facility hospital.