Webinar to commemorate constitution day
Speakers spoke about rights and duties under Constitution of India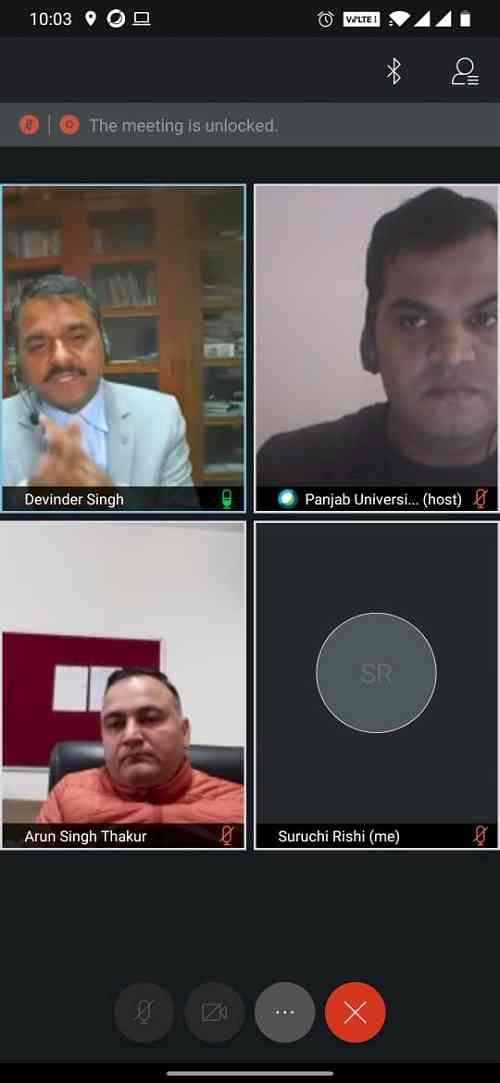 Chandigarh: NSS & University Institute of Hotel And Tourism Management(UIHTM), PU organized a webinar on Rights and Duties under Constitution of India to celebrate National Constitution day today.

Dr. Naveen Kumar, Programme Officer, NSS, Panjab University formally welcomed and introduced the dignitaries among more than 200 attendees.

Prof. Devinder Singh of department of Laws, the key speaker of the event enlightened the participants about the efforts, hardwork and struggle behind the coming up of the Constitution of India. The constitution has given us various institutions, principles and many things. For common man, we have been given the rights and duties. Fundamental rights are enforceable however duties are advisory in nature. Prof. Singh apprised the audience with the fact that duties were incorporated subsequently after due deliberations during review process at later stage.  Participants were made to understand that we have a duty towards environment, culture and therefore, we shall respect and appreciate our constitution, nation and culture. It was deliberated that Citizens have become right centered during recent times, but forgot that in the rights, duties are hidden, and duties and rights go hand in hand. Recent example of pandemic times was used to substantiate the argument that one shall think of contributing during the testing times. One should have sense of social responsibility while performing our duties so as to satisfy the right demands of the citizens. At last, the speaker advised that as a teacher, one should contribute by way of his knowledge so as to make future generations responsible.

Dr. Arun Singh Thakur, Assistant Professor, UIHTM proposed vote of thanks, and untiring support and able guidance of Prof. Prashant Gautam was well recognized, and the efforts of students' coordinator team including Diksha Guatam, Suruchi Rishi and Kartikay Nikhanj were appreciated.