Webinar on "World Ozone Day: Keeping Us, Our Food and Vaccines Cool"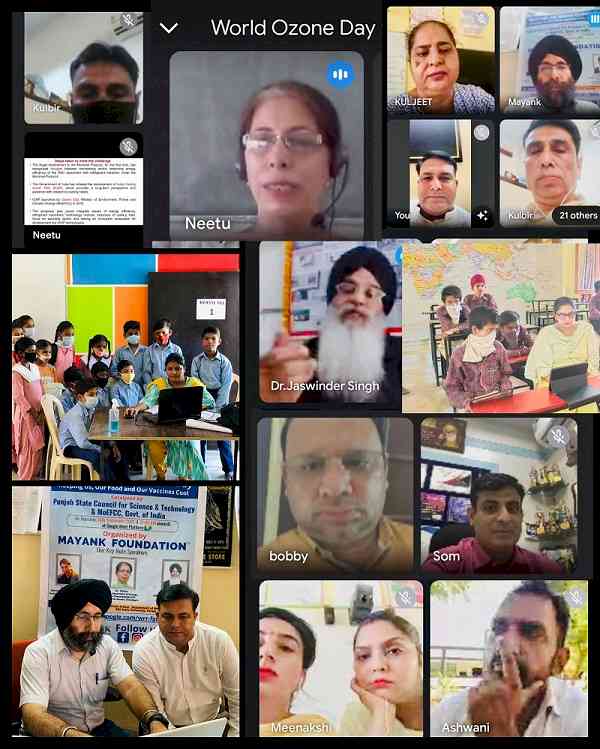 The event was organised by Mayank Foundation

Ferozepur, September 17, 2021: To mark and celebrate World Ozone Day Mayank Foundation organized "World Ozone Day: Keeping Us, Our Food and Vaccines Cool" under the patronage of Punjab State Council of Science and Technology.
The Keynote address was delivered by Speaker Dr. K S Bath, Joint Director Punjab State Council of Science and Technology followed by two Resource persons Dr. Neetu, Head, Department of Zoology, Mehr Chand Mahajan DAV College for Women, Chandigarh and Dr Jaswinder Singh Shiksha Ratan & National Awardee, Lecturer Physics, Government Senior Secondary Smart School, Kalyan, Patiala. Dr Gazal Preet Arneja, Professor Mechanical Engg Deptt. hosted the entire proceedings of Webinar. The participants of this Webinar was mixed audience of teaching fraternity from Punjab Govt. Schools, students, social workers, environmentalists.
Dr. Neetu in her expert talk emphasized that World Ozone Day is celebrated on 16 September every year. The theme of this year's celebration is "Montreal Protocol - Keeping us, our food and vaccines cool". Covid-19 pandemic has further brought social and economic hardships. She explained the emissions of ozone-depleting gases with facts and figures in detail. Jaswinder Singh Lecturer Physics gave special presentation in vernacular language which goes down deep in students mind and they participated with full response and enthusiasm. He emphasized on fact that life depletes when ozone depletes and life is not possible without the Sun. But keeping into consideration the amount of energy emanating from the Sun, it would be too much for life on earth to be sustained if it were not for the Ozone layer. Sun emits harmful ultraviolet radiation and the Ozone layer acts as a protective stratospheric shield, hence making our life as we know it possible. He gave various measures of preservation of Ozone Layer.
All these sessions were very interactive and enthused the interest of participants. Queries were also raised by participants.
Dr. Gazal Preet Arneja, paid heartfelt thanks to Dr. Neetu, Dr. Jaswinder Singh and Dr. K. S. Bath, Joint Director, Punjab state council of science & Technology for lending a helping hand and tireless support for conduct of this Webinar. He said with the active support of Punjab state council of science & Technology Mayank Foundation will organize various activities oriented towards environmental issues. In the end Deepak Sharma President Mayank Foundation thanked all the participants for patient and attentive listening and participating and raising doubts after each session.