WEBINAR ON "WIRELESS COMMUNICATION AND COMMERCIALIZATION OF TECHNOLOGY" at PU
SEMINAR BEGAN WITH EXPERT TALK BY PROF SUNIL JOSHI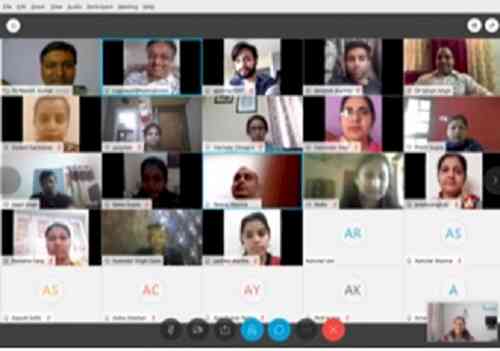 Chandigarh: 
A TEQIP-III sponsored online one-day Seminar on 'Wireless
Communication & Commercialization of Technology' was organized by
department of Electronics and Communication Engineering, University
Institute of Engineering and Technology (UIET), Panjab University,
Chandigarh under the guidance of Prof. Sunil Agrawal, Co-ordinator,
ECE department.
Event coordinators were Dr. Naresh Kumar, Associate Professor, UIET
and Er. Baldev Raj Associate Professor, GCET Jammu. The organizing
team members were Mrs. Sharmelee Thangjam, Dr. Jaget Singh, Dr. Garima
Joshi, Dr. Pardeep Kaur and Dr. Gurpreet Kaur.

The Seminar was inaugurated by Prof. Savita Gupta, Director, UIET. She
extended a warm welcome to all the participants and congratulated the
organising team for organizing the event which would be very
beneficial for the faculty and researchers during this lockdown
period.
The Seminar began with an expert talk by Prof. Sunil Joshi, Maharana
Pratap University of Agriculture and Technology, Udaipur. He started
with introducing the participants as to how wireless communication has
evolved significantly over the last few years to meet the demand for
high transmission rate, range and reliability. He explained about the
three key components of the channel response and provided an overview
about the commonly used empirical models like Hata Model etc..

The second expert, Dr. Arvind Kumar, National Institute of Technology,
Kurukshetra, explained the impact of fading on the performance of the
wireless system. He talked about how Massive MIMO is a promising
technology to enable high data rates in 5G.

In the third season, Dr. Surender Singh Saini from CSIO-CSIR talked
about the commercialization of technology. He gave an insight to the
various technologies of CSIO- CSIR and how the organization has
transferred 43 technologies in last five years to industries. He
explained about four types of challenges i.e. individual level
challenges, technology level challenges, organization level challenges
and national level challenges. He emphasized on the commercialization
of the technology and said it is not a onetime phenomenon but a
continuous process for sustained technological growth.
The discussion and feedback session was handled by Dr. Naresh Kumar.
It was an interactive session with many participants giving positive
feedback and telling how they have benefitted from the seminar.  90
participants attended this event.
The Seminar concluded with a Vote of Thanks delivered by Er. Baldev
Raj, Government College of Engineering and Technology, Jammu.