Webinar on statistics and covid- 19
Speaker of the webinar was Dr Amar Nath Gill, who is currently working at IIT, Una, Himachal Pradesh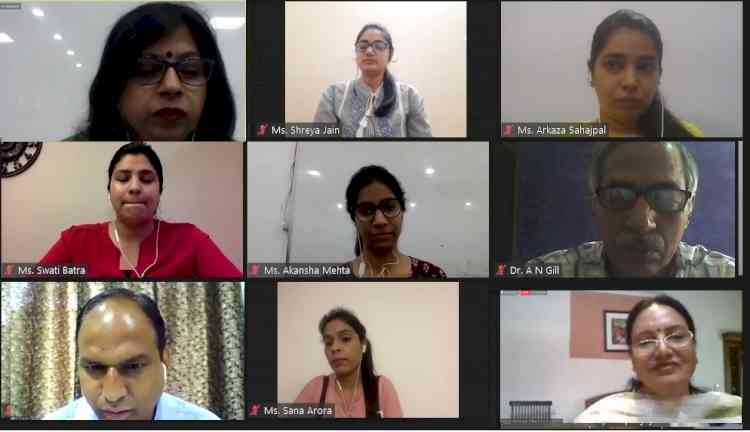 Jalandhar: The Department of Mathematics of Apeejay College of Fine Arts, Jalandhar organized a Webinar on Statistics and COVID- 19. The distinguished speaker of the webinar was Dr. Amar Nath Gill, who is currently working at IIT, Una, Himachal Pradesh. Along with this, the session was joined by the alumna of college who has established their careers at various places in the field of Mathematics. The proud alumna of the college are- Ms Swati Batra( Education Assistant British Columbia, Canada), Ms Sana( Former Asst. Prof at PCM SD College, Jalandhar),Ms Shreya Jain ( Asst. Prof at Kamla Nehru College, Phagwara) Ms Akanksha Mehta(Asst. Prof at  PTU, Kapurthala)and Ms Arkaza Sehajpal ( Research Scholar in Education Department at GNDU).
Talking about the role of Statistic on COVID- 19 , Dr Gill stated that it was never possible for the government to test each and every single person of the country to see if they have been infected or not. During this the statistics came as a helpful element. Through the statistics only, we receive the information about the percentage of increasing or decreasing cases of COVID- 19 and considering these stats only government has been able to analyse the situation and thus takes the respective measures to prevent the number touching the skies. The entire alumni too supported this idea put forth by Dr Gill.
Principal Dr Sucharita Sharma too asked a question. She asked Dr Gill about the role of Statistics while teaching languages. Dr Gill replied that this field of study is termed as Stylistics in which the distinctive styles of individual writers are studied and which can reflect the personality traits of the author as well. He added while analyzing the work of author with the help of Statistics, the usage of particular word, sentence, style or dialect can be figured out and thus the behavioral patterns of author can be figured out.
At the end Principal Dr Sucharita Sharma expressed her immense pleasure for having Dr Gill and the proud alumni of the college in this webinar. She also congratulated Department of Mathematics for successfully conducting this informative webinar for the students.