Webinar on positive role of instrumental music and its professional outcomes
Pandit Ashim Chaudhary was the resource person of the day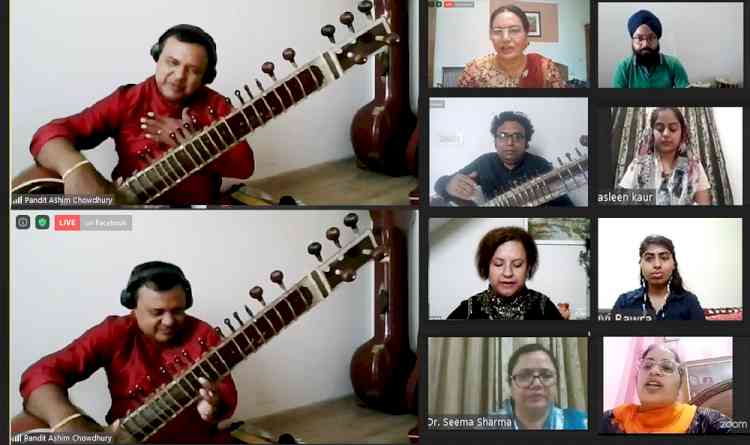 Jalandhar: The Department of Music Instrumental of Apeejay College of Fine Arts, Jalandhar organised a webinar on Positive Role of Instrumental Music and its Professional Outcomes. Pandit Ashim Chaudhary who is an internationally acclaimed top grade Artist of AIR and Doordarshan was the resource person of the day.
 Principal Dr. Sucharita Sharma expressed her immense pleasure to have him amidst them and put forth that in today's time as youth of the country is more attracted towards western music and instruments but she added she is sure when they will hear few words from the experts itself and see him playing Sitar, this can alternate their perception and more and more youngsters will get swayed towards Indian Musical Instruments.
Dr. Anupam Sood, Dr. Seema and Mr. Smarajit Sen from department of Music Instrument hosted this webinar and also coordinated the various questions and answers of students.
Pandit Ashim Chaudhary shared with the audience that Ragas are the base of any music and Sitar has its own significance in it. These days music is used as therapy as well and in fact in hospitals as well there are meditation rooms and music therapies are also recommended to patients. He added during the lockdown too when anxiety or restlessness hits up, on can spend their time listening music or playing it and this definitely will ease up the person. He also played the tunes of few famous songs which were very pleasing to ears.
Principal Dr. Sucharita Sharma congratulated Department of Music Instrumental for successfully organising this webinar.