Webinar on national education policy 2020: roadmap for implementation at PU
Chief Guest of webinar was Bandaru Dattatreya, Governor of Himachal Pradesh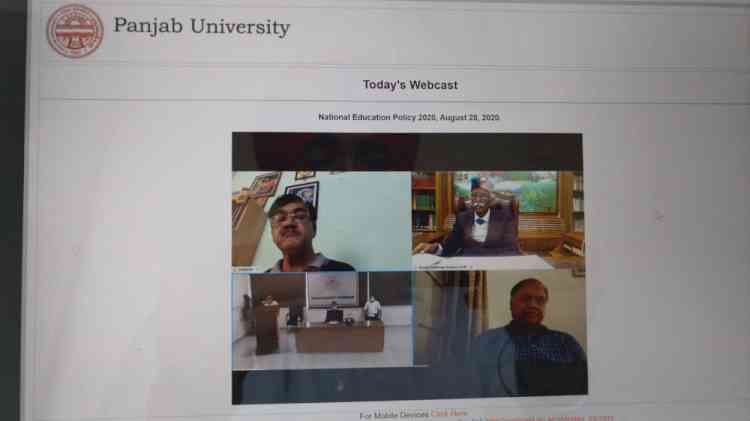 Chandigarh: The Department of Community Education and Disability Studies, Panjab University  organized a webinar on National Education Policy 2020: Roadmap for Implementation. The Chief Guest of the Webinar was Shri Bandaru Dattatreya, Governor of Himachal Pradesh. 

Prof. R.K.Singla DUI, Panjab University Introduced the Chief Guest and extended warm welcome on behalf of Panjab University.  Prof. Raj Kumar Vice Chancellor in his address stated that  Panjab University has already started planning short and long term implementation of NEP 2020. He also stressed on sharing of resources' and collaborations with different agencies. Prof Raj Kumar also highlighted the infrastructure facilities like CIL, Incubation Center and Human Resources' in the form of eminent scientists and researchers presently working in the Panjab University.

The Chief Guest of the Webinar Shri Bandaru Dattatreya Honorable Governor of Himachal Pradesh at the outset appreciated Panjab University for being one of the important Universities in the country producing the best Alumni in all the important fields. 'This education policy is the true representative of Bharat and I hope that this policy will help in achieving the goals of Atma Nirbhar Bharat. This policy will help in making India a superpower in future and will stop brain drain' Added Sh. Dattatraya. Governor also deliberated on Conversion of leading colleges into board administered, autonomous, degree giving HEIs and freeing up undergraduate students to take courses across all disciplines. He also discussed Launch of a four-year bachelor's degree and incorporating vocational education in college curriculum. The emphasis was on Creation of a National Research Foundation.

The Vote of thanks was proposed by Coordinator of the Webinar  Prof. Prashant Gautam, UIHTM, Panjab University, Chandigarh who thanked The Chief Guest of the Webinar  Shri Bandaru Dattatreya Honorable Governor of Himachal Pradesh for sparing his valuable time and addressing PU faculty, research scholars and students. He also thanked Prof. Raj Kumar Vice Chancellor, Panjab University for having the vision and goal  for motivating everyone to achieve the same.