Webinar on "Le Corbusier – The Scientific Temper of the Modern Movement"
Panjab University Alumni Association organised the event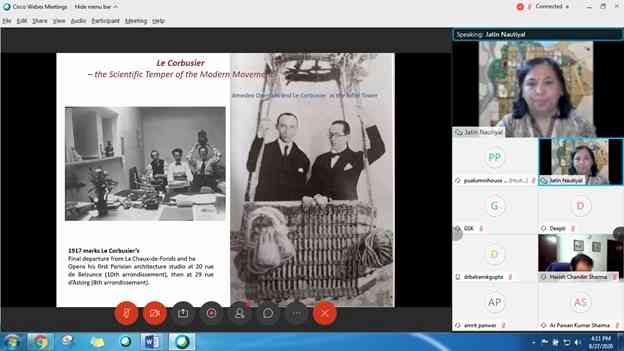 Chandigarh: Panjab University Alumni Association organised a webinar "Le Corbusier – The Scientific Temper of the Modern Movement" by Dr. Sangeeta Bagga Mehta, Professor at Chandigarh College of Architecture, Chandigarh, and also the first woman principal of the CCA. An alumna of CCA, she is an urban designer from SPA New Delhi and a PhD from Panjab University, Chandigarh with a special interest in the conservation of modern heritage ensembles. She has conducted multiple collaborative student workshops with universities including the Bezalel University of Art & Design (Israel), the Carnegie Mellon University, the University of Wisconsin-Milwaukee, USA and the Technical University at Delft (Netherlands), University of Brisbane, Queensland. Her work and these collaborations are centered on the examination of urban landscapes, environmental design and social issues within Chandigarh. In continuation of her role as Nodal Officer, UNESCO World Heritage Nomination of the Capitol Complex, Chandigarh, she has curated several heritage walks on the heritage ensembles of the city including the Panjab University, Jane Drew villages, among others.
 
Prof. Deepti Gupta, Dean, Alumni Relations, Panjab University, Chandigarh. Welcomed Prof. Bagga and the audience.
 
Prof. Bagga started with a brief biography of the world famous architect Le Corbusier and spoke about the major influences in his life that shaped his art. His father was a watchcase engraver and he learnt precision in drawing from him. He was also influenced greatly by his travels. He liked to draw hands, musical instruments etc. Le Corbusier was the first among his contemporaries who proposed the impact of colours on spaces and their influence on the psychology of people - a striking contrast to his time when colour was deemed as a mere ornament. The watch brand RADO, in 2019, announced the launch of  Rado True Thinline Les CouleursTM, that pays tribute to the iconic modernist architect, Le Corbusier.  Many such interesting facts were shared with the participants. 
Prof. Bagga showed pictures of various buildings designed by Le Corbusier. She discussed the open hand symbol of Chandigarh, the Chandigarh Secretariat building, the Gandhi Bhawan in Panjab University, the museum of Unlimited Growth, the tapestry in Haryana Assembly, Bhakra Dam and many other such monuments designed or modified by Le Corbusier. Le Corbusier died in 1965 leaving behind his legacy. Prof. Bagga concluded by saying that as citizens it is our moral and social responsibility to take care of our city. We all are responsible.
 
Towards the end the participants congratulated and thanked Prof. Bagga for the very informative and interesting presentation. She answered a few questions. Prof. Deepti Gupta proposed a vote of thanks and the webinar ended.