Webinar on Impact of Covid 19 on health System
Change is the only Constant in life – PU VC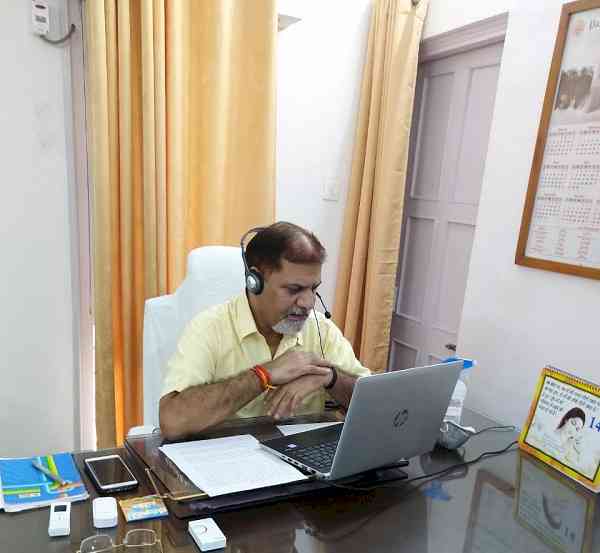 Prof Raj Kumar, Vice Chancellor, Panjab University Chandigarh.
Chandigarh: Department of Biotechnology, Panjab University Chandigarh organized a webinar under the aegis of Punjab Academy of Sciences on "Covid 19: Impact on Health System" today which was inaugurated by Prof Raj Kumar, Vice Chancellor. In his inaugural address, PU VC described that the current crisis has provided opportunity to reconsider our lives and reorganize them in a way that has less impact on our planet. People have started thinking differently, re-imagining , taking  action and weaving in a shift towards  better world to adapt with deftness to the 'Change', as that's the only constant in life.
The Covid-19 crisis has made us to realize about the moderate role we play on this planet and how small we are in our capacity to make changes. He further added that in this testing time of corona pandemic, Dr Kashmir Singh, Chairperson, Department of Biotechnology and Punjab Academy of Sciences has collaborated to organize the current webinar in our University to update us about progress made at global level to control this pandemic by vaccine development programs, currently used remedies etc.
Prof RC Sobti, former VC PU further elaborated the theme of webinar and introduced the speakers.
Dr IJS Bansal Founder president Punjab Academy of Sciences described the role of academy and its activities in popularization of science and technology.  Eminent Scientist like Dr KK Talwar, former director PGIMER, Dr VP Kamboj former director, CSIR-CDRI Lucknow, Dr Sunil Arora, PGIMER Chandigarh discussed about role of medical personnel in controlling COVID-19, emergence and re-emergence of Covid 19 disease and progress in tackling it through vaccination and immune response.
Dr AK Singh, DG Life science, DRDO shared his views about the evolution of SARS-COV2 and emphasized that this is a lab made strain and spread of disease was well planned. Media has played an important role during this pandemic, thus, Mr Roopinder Singh, Former chief associate editor of Tribune talked about role of media in creating awareness among general public about virus. Dr EV Trehan, a noted entrepreneur,  discussed the role of private sectors in this pandemic.
In the end Prof Amrik Singh Ahluwalia, President Punjab academy of sciences and Dr NR Dhamiwal, secretary, PAS thanked the speakers and audience for their interest in the webinar.